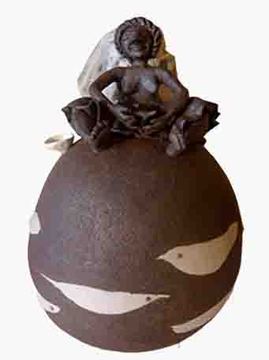 SVAC presents "Healing The Planet, Healing Ourselves" 
Opening Reception: Nov. 7th, 7:00 PM - 11:00 PM
Exhibition dates: November 7th through December 5th
Studio Bongiorno, 500 Lincoln St., Santa Clara, CA PH: 408 217-9346
The "Healing The Planet, Healing Ourselves" exhibit addresses the problem of human suffering as well as environmental issues that result from this suffering.  Our current ways of living need to change. Through action, education, and meditation, we can all be part of the solution.  Greed and loss of connection, due to grasping at self, has led to a new awareness.  It is crucial to have a balance of nature in order to continue feeding the world and us. First, we must heal ourselves of this grasping to become a strong voice for change.  As a part of this healing we must realize our true nature as compassionate beings, and remove the delusions that cause us to be unaware of this nature. It is the process of learning how to see clearly that we have this nature.
 
Nature needs no lessons on how to survive: we do.  Today, as we work towards healing our differences, and ourselves, more of us are becoming a positive catalyst for change. We are starting to move in the right direction!
 
As artists we have a responsibility to bring awareness of these issues to the public.  The arts have always been important to world history and we are proud to be part of this exhibit.
 
Thank You,
The Artists of the Silicon Valley Artists' Collaborative (SVAC)
LIST OF SVAC ARTISTS: 
Elsa Aguirre, Tracy Baca, Marield Berry, Phil Bongiorno, Antonio Castro, Steve Chehy, Vince Cantelmo, Syd Dunton, Midori Endo, Carolann Espino, Bea Garth, Lucy Ghelfi, Bill Halleck, Robert Knight, Lori Krein, Jon Kwak, Theresa Merchant with Alex Casbara, Kris Miller, Peter Moen, Kim Munson, Elizabeth Parashis, Al Preciado with Pia Distefano, James Pollard, Howard Pugh, Inna Razmakhova, Joe Bastida Rodriguez, Lynn Rogers, Ruby Rutledge, Carolyn Silvas.