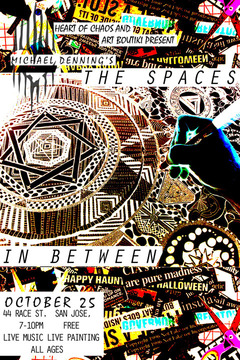 Michael Denning is a San Jose artist who has curated and shown work extensively for the past ten years in Half Moon Bay, San Jose and San Mateo. He is a co-director of Heart of Chaos Artisan Collective and co-owner of Zenning Clothing. His latest exhibit is an autobiographical show explaining his life experiences and how they were catalysts for his art and the healing process involved as well as highlights of his work in community outreach and activism.
"My goal as an artist is to provoke thought, inspire change and invoke in others the desire to create for themselves. My primary medium is collage, but I also do painting, meditative drawing, photography and design work for musicians. I've always been artistic, with an overwhelming need to create. I chose collage as my medium because it allows me to take society and reflect it back at itself. Having had a troubled youth with drugs, suicide, severe depression and abuse, Art has been my saving grace."
There will also be live painting and live music.
Opening Reception: October 25, 2014 7-10pm
Exhibit runs through Nov. 25, 2014
SLG Art Boutiki
44 Race St., San Jose CA