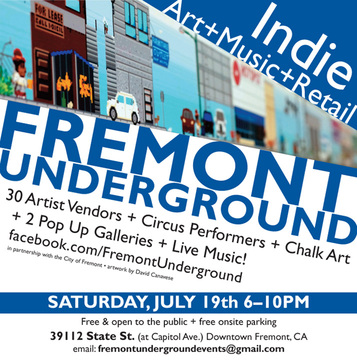 Coming up THIS Saturday is the third FREMONT UNDERGROUND Social Experience event!
Invite some friends for a great night out! https://www.facebook.com/events/249768638558970/
Free & open to the public - plenty of free parking.
Town Fair Shopping Center
39112 State Street (@ Capitol Ave)
Fremont, California 94538
email: fremontundergroundevents@gmail.com
Participating Artists:
Alex Hwang
Alicia Kim
Anthony Barbaria
Big Slick Photography
Bows & Clouds
Brandon Selph
David Mejia
Dug Stanat
Erica Atreya
Jesse Nelson
Jinal Shah
Jo Anne Yada
Joe Perea
John Thomason
Joseph Rodriguez
Jude S. Silva
Kolors of Earth Jewelry
Laura DeLeon
Luna Park Chalk Art Festival
Masetas Rotas
Matthew Cartwright
Megan Wood
Michael Denning
Michael Foley
Mim Art
Naomi Fisher
Sara Mithra
South Bay Circus Collective
Thomas Morrow
Vanessa Callanta
Vataloca
+ live performances and 2 Pop Up Galleries!