The South FIRST FRIDAYS Art Walk + STREET MRKT is TONIGHT!
Friday, August 2nd 7–11pm / Free & all ages.
KALEID Gallery has two new solo exhibitions by resident artists Nadja Martens, and Joe Perea.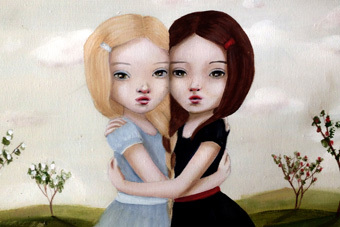 Minoule — The Art of Nadja Martens
Ever since I was a young I loved to listen to stories which I always found fascinating. Eventually I began to use these stories, and my own imagination, to escape to new places and interpret the world around me. My paintings are inspired by both the worlds I dreamed up and the one that surrounds me. I try to capture the instant in which I step back from reality and sink into the realm behind my own eyes.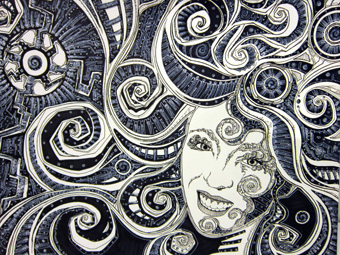 Paradigm Shift – New works by Joe Perea
When Aristotelian logic is not enough and the linear thinking dissolves, quantum thinking rises out of the new and into the old.
KALEID Gallery
88 So. 1st St.
------------------------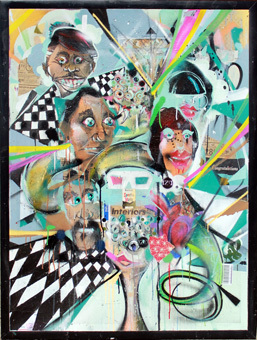 Phantom Galleries presents Window Shopping, recent works by Fernando "FORCE129? Amaro Jr
Phantom Galleries transforms vacant storefronts into vibrant art exhibitions by regional artists. These temporary installations, which are viewable 24/7 from the sidewalk, add a jolt of visual stimulation to the passersby and gives wider exposure to independent artists. Fernando Amaro, Jr is a San Jose artist that exhibits widely on the west coast and keeps busy in between shows with his graphic design company.
Phantom Galleries
95 S. Market St.
------------------------------------------------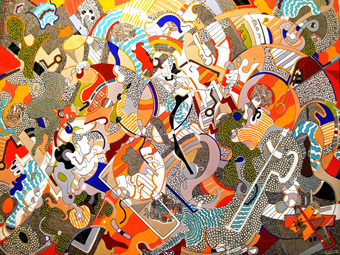 Phantom Galleries presents Everyone Gets a Piece! by Bryson Bost at Pho69.
If people really are easier to acquire than objects, then we certainly live atop an intriguing planet. The hope is, that these images are, 'accessibility,' in it's truest form.
Bryson Bost is a painter and draftsman. His work has been exhibited in Oakland, San Francisco, Burlingame, and now San Jose. His father enjoys telling anyone who'll listen that, 'his son's work shares wall-space with Miro.' It's my pleasure!
Pho69
321 So. 1st St.
------------------------------------------------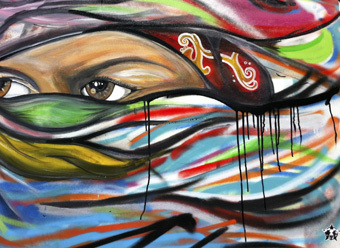 Phantom Galleries presents Awakening Giant by Omar at Good Karma Vegan Café.
Omar is an Artist, he lives and works in the Bay Area. A former native of Mexico City, he migrated to the U.S. at the age of 9. His desire and passion for art started at a young age, sketching and drawing characters out of comic books. His art-work would be best described as a "beautiful mess of colors" deeply rooted from the? soul. ?
?
?Omar's artistic aberration is still evolving rapidly, along with countless goals and aspirations, that he hopes to conquer as an artist. Omar's goal is soon to expand his network of artistic consciousness throughout the U.S. and eventually focus all his time and energy to his arts as a full time artist.
Good Karma Vegan Cafe
37 So. 1st St.
------------------------------------------------

In addition to the Art Walk, South FIRST FRIDAYS presents STREET MRKT
A nighttime DIY urban faire during the art walk that brings together local artists, creative indie retailers and a live music stage with performances by The Trims, French Cassettes and Shovelman with Emcee Avery Burke (of Corpus Callosum) out on South First Street between San Carlos and San Salvador streets.
Free and open to the publlc.
Participating artists / creatives:
Al Preciado , Alan Hackler/Bay Landscape, André Hart, Anna Nguyen Studios, Baysics Clothing, Beadworker, Becca's Studio, Black Cat Collective, BOLO Vintage, BoomBotix, Bugs and Monsters, Chivaz Wear, Crossroads Trading, Current Tattooing, Cynthia Gonzalez, David Canavese, Death Before Dishonor , EcoMonster, Fernando Amaro, Francisco Franco, Frank Aguilar, Galactic Romance, Gianfranco Paolozzi, Higher Fire Clayspace & Gallery, Jumble Jimbles, Kathryn Hedges, Keith Bunnell, Knotty Boards, James Pollard, Jewels by Daisy, Jodi Mascarenas, Lucy and Mabel Jewelry, Luna Park Chalk Arts Festival, Matthew Lopez, Mejia Arts , Mike Borja, Oak Creek Vintage, The One Thousand Thousand Project by Jason McHenry, Original Grounds, Poetry Center San Jose, Radio KKUP 91.5fm , Revolights, SEASONED, The Showroom by the Usuals, SLG /ArtBoutiki , Steven Reece, Steamy Tech, There There, Tinkertart, WomenRisingSJ, Woody Miller, Zenning
Safe & secure bike parking provided by San Jose Bike Valet
In addition to wonderful restaurants and cafés in the district, a wide assortment of gourmet food trucks will be on site in the parking lot next to Anno Domini Gallery: Banjara Bistro, Barefoot Coffee, Cheese Bandits, Eat On Monday, MoBowl, MoGo, Quick Dog, O Mi Ninja, ScoopsSJ, Soulnese & Twisted Chill
We appreciate our Street Mrkt partners & sponsors:
San Jose Downtown Association
ZipCar
Metro Newspapers.
For full listing of participating art walk venues, please visit www.SouthFIRSTFRIDAYS.com or join us on Facebook here.

First Friday August 2nd, 7–11pm
SoFA District (& beyond) in downtown San Jose
South First Street between San Carlos & San Salvador streets