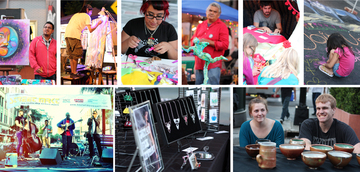 STREET MRKT was created in 2006 as a way for our local indie/subculture artists and creatives to have direct access to the 1000s of art walk patrons that come out for the South FIRST FRIDAYS Art Walk (and vice versa).
STREET MRKT takes place on South First Street in the SoFA District on First Friday August 2nd and First Friday September 6th, 7–11pm. If you'd like to be considered for a spot to exhibit and sell your art or creative product(s) at this well attended, art & music focused event, please submit 3-5 jpgs (720 pixels wide at 72dp) of your current work and a short bio and we'll get you more info on vendor space and pricing. We're also open to performances, art demos & live painting, so please inquire.
Space is limited and you'll need to bring everything you'll need to exhibit/sell. We provide the space, the electricity and the amazing audience.
Send submission to: info@southfirstfridays.com
Accepted artists/vendors will be notified no later than July 15th.