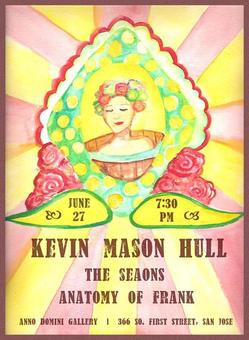 Anno Domini presents a night of live music with San Jose's Kevin Mason Hull, The Seaons from Oregon and The Anatomy of Frank from Virginia!
Kevin Mason Hull
Kevin Mason Hull's new album is just about complete, and he's preparing to enter the "promote-until-my-voice-is-hoarse-from-screaming" phase. Come celebrate with Kevin as he releases a preview CD of three songs off the album, and premiers some songs with his band!.
http://www.kevinmasonhull.com/

The Seaons
The Seaons (see-ons) are a young Southern Oregon Indie Rock band playing original songs. Their influences range from the joyful renderings of African marimba to the soothing harmonies of modern Indie Rock. While refusing to fall neatly into any one genre the band develops all their compositions around a myriad of ideas and carefully completes the tunes with well placed percussion and an unspoken willingness to please.

The Anatomy of Frank
The Anatomy of Frank believes music is good for many things. Among these are dancing recklessly, sitting motionlessly, percolating, sobbing privately, weeping publicly, destroying things, getting into relationships, getting out of relationships, nurturing a good mood, enunciating a bad mood, entertaining a fantasy that you are more badass than your social situation allows you to be, accepting that you are average in many ways, believing that you are extraordinary in others, laughing, screaming, and jumping.
http://www.theanatomyoffrank.com/
THURSDAY, JUNE 27th
RSVP (via Facebook)
Doors at 7:00pm, show at 7:30pm
$5 cover, all ages

Anno Domini Gallery
366 South First Street
Downtown San Jose
www.galleryAD.com