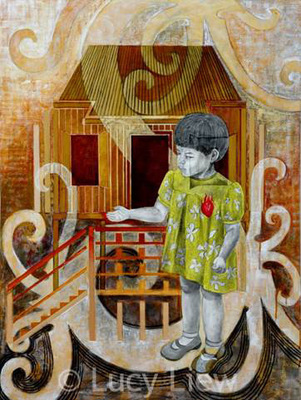 HYRBRIDITY, MULTIPLICITY, HETREROGENEITY?
Exhibit Opening Reception: Thursday, March 3, 5-8pm
Exhibit Dates: March 3 - March 31, 2011
A MULTI-MEDIA EXHIBIT OF BAY AREA ARTISTS OF SOUTHEAST ASIAN DESCENT
HYBRIDITY, MULTIPLICITY, HETEREOGENERITY fosters an interdisciplinary
dialogue on cultural fusion, tradition and identity within the San Francisco Bay Area's
Southeast Asian American community.  The artists selected for this exhibition
use a myriad of media to convey their sense of self and their position within
American society.  The artists' thematic materials vary as a result of the
diverse heritages they were raised in and the relationships and/or memories they
choose to work from.  Highlighting these selected works from a larger cultural
base, this exhibition is mounted in conjunction with San Francisco State University's
third tri-annual interdisciplinary conference of Southeast Asians in the diaspora:
Re-SEAing Southeast Asian American Studies March 10 and 11.
MARCH 10-11:
Gallery Exhibition: Cesar Student Art Gallery, 10:00am – 6pm Terrace Level of the Student Union
         
Curators:
Carol Reif
Stephanie May
Alexander Salvatore
Thu Nguyen
Crystal Schwierzke
Postcard Artist:
Lucy Liew: The Persistence of Home
Installation:
Vince Skelly, The Art Gallery: Director
Artists and Supporters:
Freddy Chandra
Bihn Dahn
Lucy Liew
Ratha Nou
Yee Yee Htwe
Cat-U-Thasoonthorn
Gue Yang
Jan Erich Oblena
Isabele Thuy Pelaud
 
For more information, please visit: http://online.sfsu.edu/~seaas/ArtExhibit.html