THURSDAY FEB 24th
DR. SKETCHY'S San Jose presents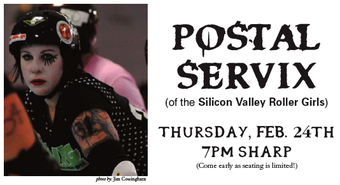 Unfamiliar with the Silicon Valley Roller Girls and the bloody sport of roller derby in which they compete? Ignorant of the fierce battles these warrior women engage in for little more than glory and scars?
Educate yourself by attending our up close live figure drawing session!
Thursday, Feb. 24th, 7pm sharp (come early, seating is limited)
General Admission $10./ Students $8. at the door
Bring your sketchy pads and favorite drawing materials.
Master of Ceremonies: Drew Clark

Anno Domini Gallery
366 South First St., San Jose, CA
www.galleryAD.com
408-271-5155
--------------
FRIDAY FEB 25th
The Usuals presents new works by KALEID Gallery's LACEY BRYANT
18 new large works by Lacey Bryant at The Usuals on Friday, February 25th, 7-10pm.
Music, drinks, cupcakes and new Lacey designed t-shirt release.
The Usuals
1020 The Alameda
San Jose, CA
www.shoptheusuals.com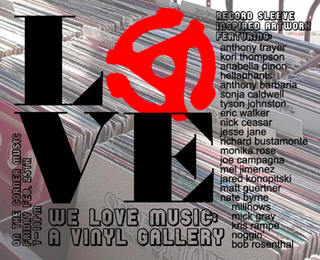 On the Corner Music presents the 4th Annual We Love Music! Gallery
Friday, February 25 · 7:00pm - 10:00pm

Vinyl inspired artwork by over 20 local artists featuring: Anthony Trayer, Kori Thompson, Anabella Pinon, Hellaphants, Anthony Barbaria, Sonja Caldwell, Tyson Johnston, Eric Walker, Nick Ceasar, Jesse Jane, Richard Bustamonte, Monika Rose, Joe Campagna, Mel Jimenez, Jared Konopitski, Matt Guertner, Nate Byrne, Millhows, Mick Gray, Kris Rampe, Noggin', Bob Rosenthal, and more - plus drinks, DJs (Joe C, Fuchsia, and Jeff Jagged), and NO TAX ON ALL VINYL!
Portion of sales and donations goes to the City Of San Jose Animal Care Center- www.sanjoseanimals.com
On the Corner Music
530 E Campbell Ave
Campbell, CA 95008