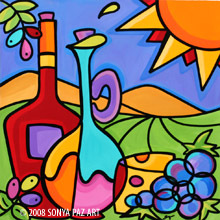 Who could imagine, a Food and Art pairing!
This special event features the art of Sonya Paz of Sonya Paz Fine Art Gallery, with her exuberant use of color and forms. Pair that with Culinary Instructor Nance Danner Rocha and Chrystie DeSoto from The Olive Bar in Downtown Campbell.
Bold shapes and vibrant colors leap off Sonya's canvases, while Nance's distinctive flair for flavor and presentation uses the freshest flavored Extra Virgin Olive Oils and aged Balsamic Vinegars to create an array of beautiful salads, and appetizers. Tantalize your senses with pop art visuals along with flavorful appetizers, salads, olive oil, tidbits and more!

Thursday, July 29, 2010 ~ 6:00pm to 8:30pm
Tickets are $20 in advance, $25 at the door.
Tickets can be purchased online here or in person at Sonya Paz Gallery or at The Olive Bar. Space is limited so get your tickets now! A percentage of proceeds will be donated to the Humane Society Silicon Valley to benefit shelter animals.
Sonya Paz Fine Art Gallery
195 E. Campbell Avenue
Campbell, CA 95008
408.378.5000