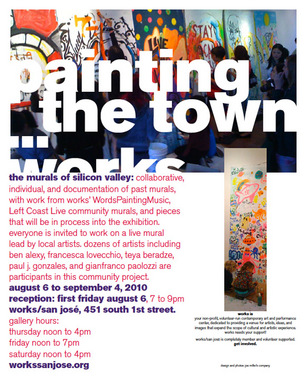 WORKS Gallery presents another fun-filled, interactive, community-based Event & Exhibition opening August 6th from 7pm to 9pm.
It's all about murals... Painting the town!
Murals of Silicon Valley: Past, Present & Future is an exhibition of collaborative and individual murals, along with a photo documentation exhibit of signature and past murals of the Valley. In addition, on display will be murals done during the on-going WORKS' Series: Words, Painting,Music and Left Coast Live.
And, . . . In a true collaborative and community driven spirit, gallery goers are invited to work on murals still in progress. The public is invited to work along side dozens of local artists. Materials will be provided. All ages are invited!
See an Artist; Be an Artist . . . WORKS Gallery is your Gallery too! Here's your chance to paint with San Jose artists and muralists.
Join us for the Opening Reception - First Friday, August 6th, 7-9pm
WORKS San Jose
451 So. First Street
San Jose, CA