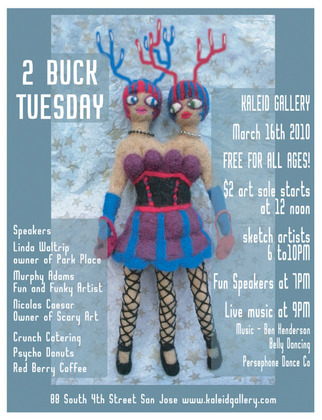 Join us for TWO BUCK Tuesday March 16th!
curated by KALEID Artist Christine Benjamin
TWO BUCK Tuesdays is an all day $2 art sale and evening quirky speaker series that happens on the 3rd Tuesday of the month.
$2 ART SALE starts @12pm
FUN TALKS start @7pm featuring:
Linda Waltrip will be talking about her inspiration and passion for clothing – from owning her own vintage clothing store: Park Place in Downtown Willow Glen, to being an incredibly talented seamstress. Some models will be showing off her creations!
Murphy Adams will give a illustrated story presentation on an overhead projector. With her quirky fun style it should be quite entertaining!
Nicolas Caesar will talk about being an outsider artist, showing art outside the galleries and survival tips for the modern artist.
SKETCH ARTISTS 6-10pm featuring:
Kate Stewart, Drew Clark, Michelle Waters, Lacey Byrant, Kyle Pellet and more (read above)
5 Minute $5 Portraits by Ivy Atoms
Also ALL artists are invited to bring their art supplies, and take a place at the sketch table! Space is first come first serve.
LIVE MUSIC @9pm featuring:
Benjamin Henderson is a bandit with a heart of gold. He steals strums, styles and stories from the past and sets them free to dance the good dance, night after night, venue after venue. His charm, powerful voice and musical ability will allow him to get away with it for years. No matter the setting or with what ensemble, Henderson always delivers a passionate and palpable energy to the listener.
BELLY DANCING featuring:
Persephone Dance Company is an Improvisational Tribal Style Belly Dance troupe who share a common vocabulary of movements and cues allowing dancers to fluidly move in tandem in 100% improvisational performances. PDC formally danced as Tribal Moon.
FOOD, COFFEE featuring:
Crunch Catering is a fresh company that was born out of a love for food and celebration. Located in San Jose and owned by chef Dave Nelson Crunch provides professional, friendly service with an artistic flair.
At Psycho Donuts peculiar donuts hobnob with quirky art, and a crazy, themed environment. Psycho Donuts has performed a facelift on the common donut, and has resurrected the corner donut shop from the brink of extinction. http://www.psycho-donuts.com/
Red Berry Coffee Bar artisan roasted, single origin coffees, are on location to serve and explain their selection and vision.

KALEID Gallery
88 So. 4th St. (btwn Santa Clara & San Fernando)
Downtown San Jose, CA 95112?
www.KALEIDgallery.com? 408.947.1785
Facebook: www.facebook.com/kaleidgallery
Twitter: www.twitter.com/KALEIDgallery
Parking: street metered parking (free after 6pm) or 4th St. Garage (@San Fernando) $3 after 6pm.