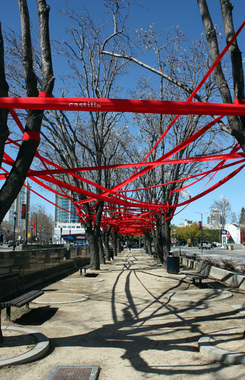 Castillo's Visual Arts Network (VAN) residency at MACLA has come to an end but her work continues to make an impression. Castillo explored ideas of ancestry and lineage with members of the San Jose community to make Bloodlines a reality.
Neighbors, students, teachers and MACLA staff came together last Saturday to celebrate the completion of the project. Participants embroidered their family names onto red fabric that was woven through the trees in the Parque de Los Pobladores (aka Gore Park, across from MACLA in the SoFA District), creating figurative bloodlines. Bloodlines continues to inspire those walking by.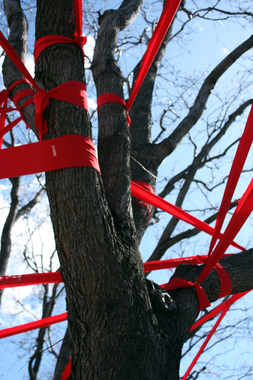 Stop by and visit the public art project when you have a moment, the trees are just beginning to flower and complement Castillo's impactful work.

photos by Astrogirl