Update: Congratulations to KATE STEWART, the winner of the Cinequest Film Festival's Maverick Art Contest!
To see a plethora of photos of the paintings in progress during the film festival, click here.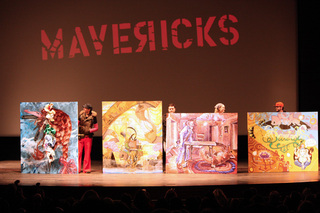 pictured left to right: Dax Tran Caffee, Michael Foley, Kate Stewrt, Wädl,
Phantom Galleries is partnering with the Cinequest Film Festival 20 to bring you the Maverick Spirit Art Contest - a live painting event that takes place in the windows of the Camera 12 Cinemas during one of San Jose's most notorious and beloved events of the year.
Featured artists Dax Tran Caffee, Michael Foley, Kate Stewart and Wädl began their canvases last week and will continue through this Friday, March 5th. Feel free to stop by Camera 12 between 11am-11pm to view the works in progress and cheer the artists on.
All the artists will present their finished paintings at the Closing Gala Event on Saturday, March 6th at 7pm at the California Theatre on South First Street.
You can participate in the event by texting your vote for your favorite MAVERICK artist to Cinequest as listed below beneath each artists' image. (Text service provided by Mozes with no surcharges imposed.)
You can click on each image to get a larger view.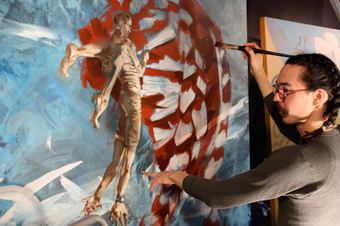 Dax Tran Caffee- text "CAFFEE" to 66937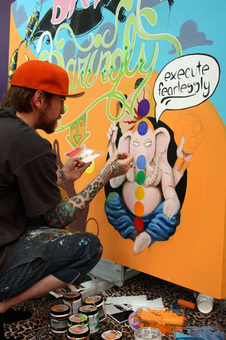 Wädl- text "WADL1" to 66937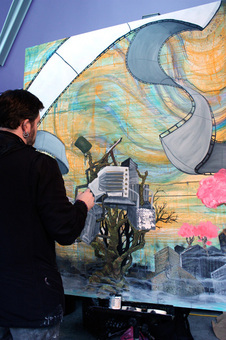 Michael Foley- text "FOLEY" to 66937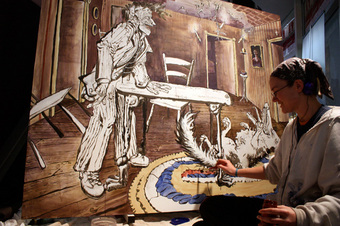 Kate Stewart- text "STEWART" to 66937
As you can see, all the work is amazing so the choice will be difficult, but your vote is important to the success of the event, so please take a moment to vote for your favorite MAVERICK ARTIST!
Please note that all paintings pictured here are works in progress. Follow us on Twitter - @PhantomTweets for live updates.
We will post images of the finished work after the winner is announced at the Cinequest Closing Gala.