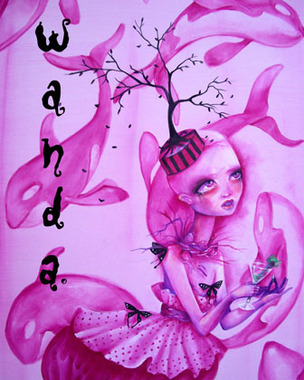 WANDA new paintings by Kurtis Rykovich
Everyday I am confronted or find myself thinking about a war so intense that it cannot be escaped, and in some way has touched us all. This war has a front line in every country and can take root in any neighborhood. In theory it is probably the least judgmental being or thing I can think of, since it shows no signs of discrimination. If this war leaves any survivors they always come out scarred but probably have never felt such a moment of empowerment. These survivors can finally breath and know that they have accomplished something that can sometimes be a miracle, they have survived Breast Cancer.
This show is a tribute to these survivors and casualties. Each piece represents a battle or search for a cure. Weather it be a green tonic, shark cartilage, or the ultimate warrior known as Chemotherapy. All of these represent weapons and hope that a future is not far in the distance.
I hope that when these paintings are viewed that they are not blunt about the disease but show a beauty and respect for those that might be going or have gone through this war. This collection was a direct result of my encounter with this war when my mother was diagnosed with breast cancer. I remember how she was constantly trying to win the war and search for a solution, perhaps the most difficult part of this battle was she no longer felt like the beautiful women that she once was. I hope that these pieces help her to understand that she was always beautiful, this disease did not take away her femininity but did highlight her strength.
dedicated to WANDA (1952 - 2001)
------------------------------------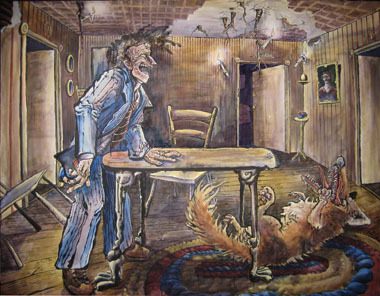 Speaking Line stories about people and their places by Kate Saturday
When we look at something, we take in its identity at a glance. We know immediately if it is a chair, a tree, a president, a wind, a story, or a hope. On further examination we can differentiate more precisely; the chair is a recliner or a picnic bench, the tree an oak sapling or a hundred-year-old giant sequoia. Deep familiarity allows us to see the object as itself, shaped by its history, unlike any other object in the world. A wrinkle is the face's memory of an expression. A scar is a historic marker. The story of our lives is how we differ from the general. Until we know someone that well, we cannot love them.
Kate Saturday is an artist, musician, and cartoonist living in San Jose. In Speaking Line, she traces the contours of her subjects lives. The resulting portraits are monstrous and jewel-like, precious and absurd. The situations are mundane, but unmistakably specific. Every line speaks volumes, and Saturday translates fluently.
A space will be available for drawing, writing, or reflecting, because a story needs a reader to give it voice.

Artists' Reception: Friday April 2nd, 7pm - 9pm
part of the South FIRST FRIDAYS monthly art walk. (Click here for more info.)
Exhibition on view through April 30, 2010
Gallery Hours:
Tuesday - Friday, Noon - 7pm
Saturday, Noon - 5pm
First Fridays 'til 9pm
KALEID Gallery
88 S. 4th St.
Downtown San Jose, CA 95112
http://www.KALEIDgallery.com