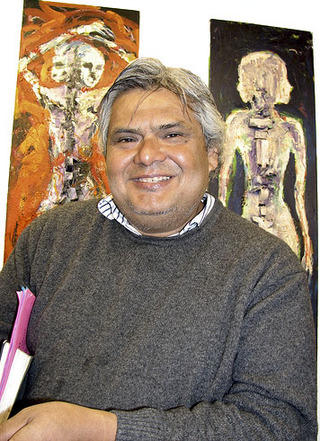 Al Preciado is turning 54 this Friday, December 18th and to celebrate he's putting on an exhibition of his work and party at his home gallery TEN10.
Al is one of the most hardest working, dedicated artist, gallery owner, educator and arts patron we know. Every time you turn around, there he is, keeping the arts fire alive.
A little background on Al:
Al is a San Jose Resident and is currently a member of KALEID Gallery, a Board member of Works/ San Jose, and director of the TEN10 art space in his home. He teaches art at Bellarmine College Prep and has taught in New York and Los Angeles. In Jersey City, N.J, he helped found Pro-Arts, a artist collective, in Santa Ana, Cal, he ran a gallery with Kelly Griffin (now a muralist in Denver) called MECA.
For a couple of years he also ran a gallery space called Overpass (Tim Cottengim, came up with name.) He has shown at many venues over the years. The past year saw my work at Works (Beast Figurative), Art Ark, KALEID Gallery, Sun Gallery, First Street Billards and others. He has an MA from SJSU and enjoys teaching and appreciates the opportunity it has given him to do art.

There will be full night of art making, music, open mic and lots of other festivities from 5pm til midnight. Hope to see you there!
Gallery TEN10
1010 East Taylor (corner of 21st St.)
San Jose, CA