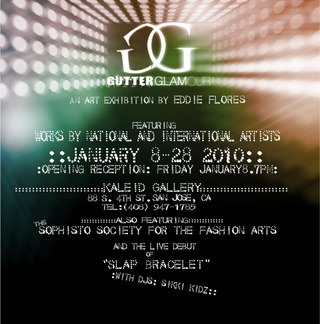 Gutter Glamour will explore our receptive and rejective notions of fashion and the media, together with the urban subculture which mirrors it.
Multi-disciplinary artists from both national and international shores have come together to present an alternate rendition of the dictative standards of style set forth by the media.
Opening night will cross platform fine art, electro, cosmetology, and fashion photography in a beautiful disaster.
Opening Reception: Friday, January 8th, 7pm-9pm
free and open to the public
Exhibit on view through January 28, 2010
KALEID Gallery
88 South Fourth Street (btwn Santa Clara & San Fernando streets)
San Jose
(408) 947-1785
www.kaleidgallery.com