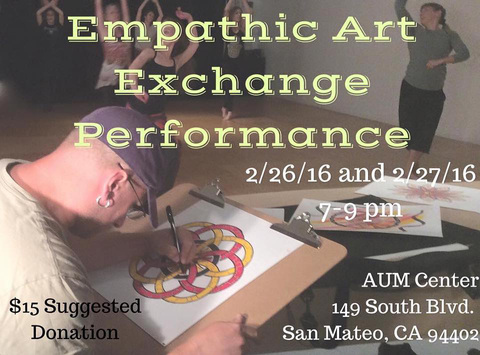 AUM and FRPArt.org invites you to The Empathic Art Exchange Performance on February 26th and 27th (7–9pm) at the AUM Center.
This project consists of an ongoing unspoken aesthetic conversation where the dancers of AUM will perform choreography for participating artists so that the artists create response art around whatever stories or emotions the performance stirred within them.
There will be tables set up for artists, as well as additional seating for audience viewing. NewGround Dance Co. has developed 7 new works that will be performed both evenings, and we would love to have you view our new choreography!
We also hope you artists will consider submitting a finished rendering from this event at our next NewGround Performance for viewing or possible purchase in the lobby. That show will be held the last weekend of May and the first weekend of June.

AUM Center
149 South Blvd
San Mateo, CA 94402