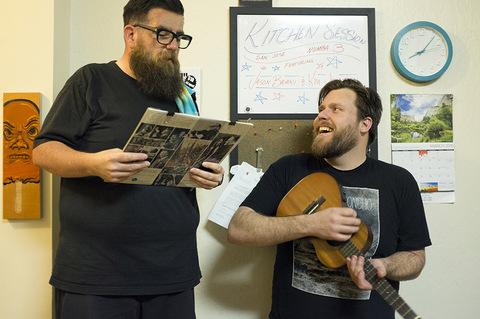 If you read about Mike McGee & Benjamin Henderson's Kitchen Session events on KQED Arts last month, now's your chance to attend one in person! (And if you missed it, you can read it here)
Kitchen Session: "Wander" Or "Wonder"
Saturday Aprill 1th, 8pm
KITCHEN SESSION INSTRUCTIONS!
• Doors at 7pm. Show at 8:05 sharp!
• Admission: $3
• Bring a homemade dish and beverage to share. Beer & wine's fine. No hard booze.
• Bring a friend, but RSVP with their name in the comments.
• Want to perform? Sign-up in person with McGee between 7pm and 7:45 the day of Kitchen Session. Sign-ups after this time will go on the "MAYBE LIST."
• PERFORMERS GET FIVE MINUTES!
MAIN ACTS
Musicality: Annelyse Gelman (Bay Area)
Annelyse is a California Arts Scholar, the inaugural poet-in-residence at UCSD's Brain Observatory, and recipient of the 2013 Mary Barnard Academy of American Poets Prize and New Paci"c Studio's 2013 Lavinia Winter Fellowship. Find her at http://www.annelysegelman.com/
Wordsmithery: Jon Sands (Brooklyn)
Jon Sands is a writer known for electric readings, and the author of The New Clean (2011, Write Bloody Publishing). His work has been featured in The New York Times, published widely in various journals, and anthologized in The Best American Poetry 2014. He starred in the award winning web-series Verse: A Murder Mystery from Rattapallax Films http://www.jonsands.com/
SPOTLIGHT ACT
Tatyana Brown (Bay Area)
Must RSVP for address here.