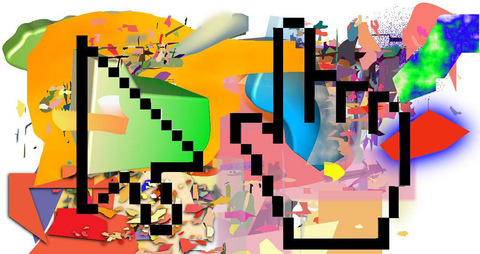 Studio 1039 and AtreyArt present "EYE TEA," a lively art exhibition on Saturday April 11th, 2015 from 7-11:00 p.m. at the Citadel Gallery in San Jose, CA . The one night pop-up event is free and open to the public. Come view this amazing show featuring over 40 artists reflecting on the effect of social media in the modern world here in the heart of Silicon Valley.
Live music will be performed by: Chris Reed, Sweet Hayah, and MC-Dj Mandiesl
Co-curated by Erica Atreya and Thérèsa Merchant, the EYE TEA exhibition showcases work across a variety of mediums, including photography, painting and installation. From utilizing social media to share work, to confronting the possibility of theft or plagiarism, social media has specific consequences for artists. EYE TEA (as in I.T.) originally refers to Information Technology used to create, develop and support computers and the Internet. The artwork reflects both positive and negative responses that have arisen out of using these now ubiquitous machines and information technology. Not only does Information Technology (I.T.) help us organize and do various tasks far more easily, it also gives us the power to connect information and people from both across the street and across the world. What we are facing is a growing revolution in our social structures as a result
Saturday, April 11th, 7–11pm
More information and artist list here.

The Citadel Gallery
??199 Martha Street
San Jose, California 95112