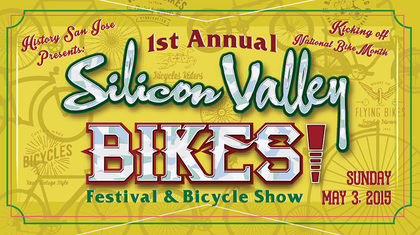 Come celebrate the Santa Clara Valley's rich bicycling history and culture with our racing, road, recreational, mountain, custom, cruiser, fixie, vintage and lowrider bicycling communities and kick off National Bike Month!!!
The Festival is a collaboration of History San Jose (www.historysanjose.org), Silicon Valley Bicycle Coalition, the Silicon Valley Mountain Bikers and Gooseneck Bicycles.
Tours of the exhibit, Silicon Valley Bikes! Passion, Innovation & Politics Since 1880, in the Clyde Arbuckle Gallery.
Free bicycle valet parking will be provided by the Silicon Valley Bicycle Coalition.
Bring your children to the kids' space, hosted by San Josè Bike Party and San Josè Kidz Bike Party, for activities, face painting, balloon artistry, bicycle decorating, a children's bicycle parade and parent chill out time.
Bring and show your bicycles and have them judged in the following categories: cruisers, custom, lowrider, vintage, fixies, kids, mountain, road and racing bikes.
The Hellyer Velodrome [the Northern California Velodrome Association] and the San Jose Bicycle Club will host a racing area. San Jose Bike Polo will host demonstration games. SJ Fixed Gear will offer fixed gear trick riding demonstrations AND! the Amgen Tour of California will be in the house! Stage 3 of this year's race starts and finishes in San Jose on May 12th.
Historian and author Dr. Andrew Ritchie will speak about History San Jose's 1842 Lefebvre, thought to be the world's oldest bicycle. Nationally known, Janet Lafleur, women's cycling advocate and the author of the "One Woman. Many Bicycles" blog will give a talk and George Mount and champion racers from the 1960s through the 1990s will share their history.
DJ Malcolm Lee will be in the house with sound and tunes by the Guerillaz in Da Mixx (GiDM).
Sunday May 3rd, 11am–6pm
$5 admission at the gate with or without show bike, Children 10 and under free
History Park at Kelley Park
San Jose, California 95112
Visit the Facebook event page for more information: https://www.facebook.com/events/1538254503091540/