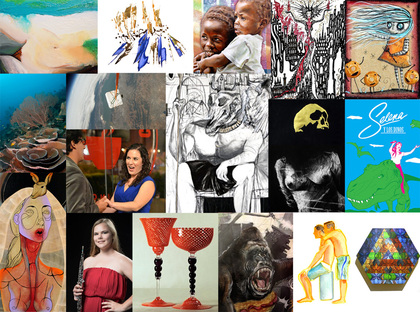 Join us for the South FIRST FRIDAYS Art Walk this Friday November 7th, 7pm–11pm! Downtown San Jose's SoFA District (& beyond).
A self-guided nighttime tour through galleries, museums, and independent creative businesses featuring eclectic art exhibitions and special performances. All art venues are FREE & open to the public.
This Friday's Art Walk includes 15 new exhibit openings, 7 exhibits still on view (but closing soon) and several special performances in venues along the route.
------PARTICIPATING VENUES------
Anno Domini–366 S. 1st St.
On view in galleryONE: "In the Cave We Dance" by Joseph Loughborough (UK) solo exhibition
On view in galleryTWO: "The Bride Series" by Cake (Brooklyn, NY) solo exhibition
Outside of A.D.: Knight Cities Challenge Info Booth
Art Ark Gallery- 1035 S. 6th St.
"The More the Merrier V" Salon-Style Art Exhibition
The Citadel Art Gallery–199 Martha St.
Exhibitions by Sonya Kleshik and Kris Patton
KALEID Gallery- 88 S. 4th St.
"Scavengers and Cannibals" new works by Julie Bilyeu
"People and Places" wearable art by Mariya Milovidova
MACLA- 510 S. 1st St.
UNMASKED an exhibition on real and re-imagined superheroes.
Future Arts Now! hip-hop dance youth performance
Seeing Things Gallery- 30 N. 3rd St.
"Full Bellies And Empty Calories" by Sean Boyles
Works San Jose- 365 S. Market St.
"The Public is Personal" and Benefit Auction Preview
ZERO1 Garage- 439 S. 1st St.
Karolina Sobecka//" The Cloud Collection"
Cafe Stritch–374 S. 1st St.
"No Zen Intended" solo exhibition by Kevin Tschaen
Caffé Frascati- 315 S. 1st St.
Opera Night presented by First Street Singers.
Circle-A Skateboard Shop–108 Paseo De San Antonio Walk
"Landscapes, Dreamscapes and Girlscapes" solo exhibition by Joseph Demaree
Discover San Jose- 150 S. 1st St.
Artist of the month: Tana Hart, Teezhandsuds
Live music by special guests: Samurai Gypsies
Local food sampling by All Honey Apiary
Downtown Yoga Shala– 450 S. 1st St.
New works by Jonathan and Joella Kermit
First to Market Restaurant–399 S. 1st St.
Community Arts Mosaic
Pho69- 321 S. 1st St.
Phantom Galleries presents "Definitely Not Digital:" an excursion into the abstract and surreal by artist Tom Dytko.
Psycho Donuts- 288 S. 2nd St.
Ongoing group exhibit.
The Sliding Door Co.–355 S. 1st St.
Oboist, Glenda Bates
Artist, Supraja Kolluri & Shishyia Art
South First Billiards–420 S. 1st St.
"Hope for Change" benefit Action for Children Zambia.
The Studio Climbing Gym- 396 S. 1st St.
"H2Ography: Undersea Images" by Dave Conner
TechShop San Jose- 300 S. 2nd St.
TechShop Collaborative Mosaic.

RSVP to our Facebook page: https://www.facebook.com/events/577994412302794

For full listing of events and information: please visit www.SouthFirstFridays.com or call 408-271-5155
The South FIRST FRIDAYS Art Walk event is produced by Two Fish Design
in partnership with the participating art organizations and independent businesses.