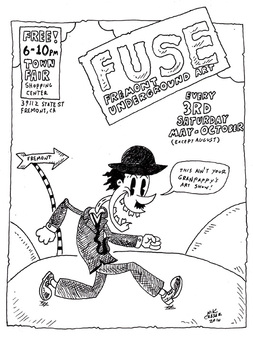 FREMONT UNDERGROUND Social Experience (#FUSE) is a new series of events to bring artists, performers and indie retailers to showcase, exhibit and make their art & creative products more accessible above ground in downtown Fremont.
Events will be held on the 3rd Saturday of the month from May through October 2014 (except Aug.) at the Town Fair Shopping Center located at 39112 State St. (@ Capitol Ave.), Fremont, CA.
6pm-10pm, free & open to the public.
Plenty of free on site parking.
JUNE 21st Participating Artists:
Kathy Adams, Brandon Anderton, Erica Atreya, Anthony Barbaria, Mike Borja, Nic Caesar, Calimob, Vanessa Callanta, David Canavese, Clicking Away Photography, MIchael Denning, Michael Foley, Francisco Franco, Gooseneck Bicycles, John Hageman, Kolors of Earth Jewelry, Luna Park Chalk Art Festival, David Mejia, Mim Art, Gianfranco Paolozzi, PeeMonster, Joe Perea, Polished by KPT, Al Preciado, Joseph Rodriguez, Brandon Selph, Jinal Shah, Barbie Swihart, John Thomason, Josiah Valdez & JoAnne Yada!
Live music by:
-David Knight, a singer-songwriter, composer and music producer from California traveling and making music in Asia.
-Mad Noise, SF Bay Guardian's "Best of the Bay 2013—Best Band"!
Licensed 2 Grill gourmet food truck will be on site as well thanks to Food Truck Mafia!
Facebook Event page: https://www.facebook.com/events/249768638558970/
Please email us at fremontundergroundevents@gmail.com with any questions or for more information on participation.
FUSE is proud to be a part of :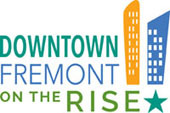 in partnership with the City of Fremont.