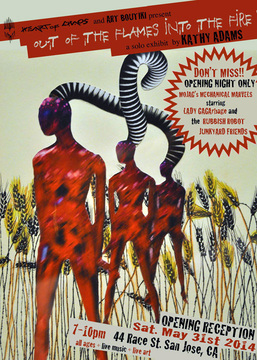 Heart of Chaos and Art Boutiki is extremely excited to announce the Kathy Adams' FIRST EVER solo art show and would love to share the experience and her art with you. Kathy is a very talented native local artist fairly new to the San Jose art scene and well versed in various disciplines ranging from pen and ink, acrylic paint, assemblage, collage, and sculpture. Please come out for the opening reception and support a very talented local artist and her amazing body of work and her for this momentous occasion.
Saturday, May 31st, 7:00pm - 10:00pm
The event is free and open to all ages
There will be an amazing live jazz band & live painting by other local artists, food & drink sales AND DON'T MISS as an opening night exclusive, Mojag's Mechanical Marvels: "Lady Gagarbage and the Rubbish Robot Junkyard Friends," which are animatronic toys she had refurbished from junk and found objects into crazy creative creatures.
SLG Art Boutiki & Gallery
44 Race St,
San Jose, California 95126