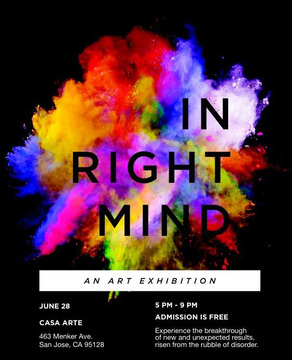 FAMA Foundation and Casa Arte present:
In Right Mind: An Art Exhibition featuring the artist Tulio Flores.
Art often spawns from a chaotic and disorderly environment from which an artist draws inspiration for ideas. Pablo Picasso once said, "An act of art begins as an act of destruction," which effectively describes the phenomenon known as "creative chaos."
Join us as we attempt to bring order to chaos through a domestic exhibit, featuring the combined art of over twenty artists. Let your ears be entertained amidst live music, delight yourself with delicious appetizers, and savor the visuals paired with various tasty spirits.
Thirty percent of the proceeds earned from art will be donated to FAMA Foundation, a nonprofit organization which works to empower economically disadvantaged people in the underserved communities of Spanish-speaking countries.
Saturday, June 28th, 4pm-8pm
Free Admission
Casa Arte
463 Menker Ave.
San Jose, CA 95128