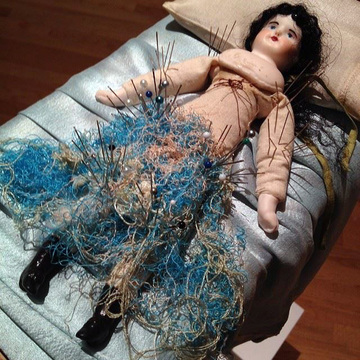 Victorian pinned effigy (voodoo doll by Beverly Rayner

We highly recommend the "Beverly Rayner: Museum of Mesmerism & Psychic Art" currently on view at the Triton Museum of Art through April 18th.
This exhibition will feature work from the collection of The Museum of Mesmerism & Psychic Phenomena, which Rayner established in Bzinica Stara, Poland in 1999, while researching her ancestral roots. Her research led her to a mysterious abandoned building, which records indicated was last owned by her great-great aunt, Bronka Katarzyna. This building was crafted by a mystical order of seers and conjurers that established an outpost in Bzinica Stara centuries ago and was restored and renovated for the museum, revealing many secret chambers, conjuring and spell-casting devices, Mesmeric and illusionist tools, spirit photographs, inexplicable objects, and enigmatic scripts that defy all attempts at translation. ~Triton website
For more information, visit http://www.tritonmuseum.org

Tuesday -Saturday: 11:00 a.m. to 5:00 p.m.
Sunday, 12:00 to 4:00 p.m.
Every third Thursday of month, 5 to 8 p.m.
Admission and parking is free.
Triton Museum of Art
1505 Warburton Ave.
Santa Clara, CA 95050