We here at Phantom Galleries are looking forward to this new exhibition by our long time friends Josh Marcotte & Kori Thompson.
We admire Josh as a photographer with an eye for the beauty in the neglected, seemingly forgotten shells of what once was, whether it be nostalgic buildings, novelty signage or classic cars.
Kori is a painter....everyday, it's what he does. His loose style is recognizable and his subjects are down to earth and familiar...a moment captured in a diner, or on a street corner.
Josh & Kori have both gained a loyal following through their exhibitions at KALEID Gallery and their participation in numerous art events in the South Bay.
We hope you'll join us at their opening reception this Friday night!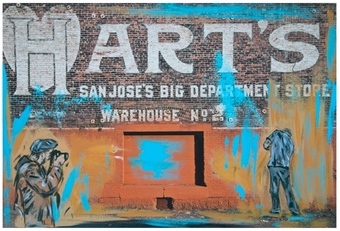 Cross Process a dual exhibition with Josh Marcotte & Kori Thompson
Opening reception: Friday, August 9th, 7–11pm
Music by RS2
Exhibit dates: August 9–30, 2013

Gallery hours: Tuesday–Friday, 12-6pm
Saturday 12-4pm
Empire Seven Studios
525 N. 7th St.
San Jose