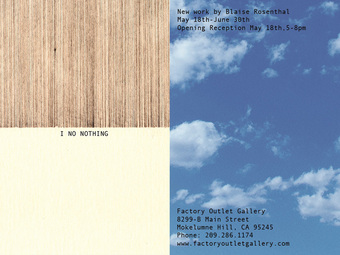 I No Nothing is a new exhibition by Blaise Rosenthal at The Factory Outlet Gallery in his hometown of Mokelumne Hill in Calaveras County, CA from May 18 through June 30, 2013.
from gallery website:
Artist Blaise Rosenthal takes over Factory Outlet Gallery with a collection of minimalist line drawings that come together to form an installation called I No Nothing. The title Rosenthal has chosen for this exhibition, which marks his first solo show in Mokelumne Hill, his home town, can be read as a statement interrupted, 'no nothing' becoming 'nevermind' -- beginning to tell and then deciding against it. Then again the phrase might also be interpreted as a double negative, 'no nothing' equaling something. In Rosenthal's work "certainty is fleeting and the ground always gives way to reveal new potential depths for consideration." It is in this slippery space that each framed drawing -- a world of its own -- becomes something greater when considered in combination with its neighbors. Zooming further out, the introduction of a sculptural element transforms the whole gallery into an unexpected landscape, an unlikely vista in the middle of this gold rush town.
Factory Outlet Gallery
8299-B Main Street
Mokelumne Hill, CA 95245
Phone: 209-286-1174