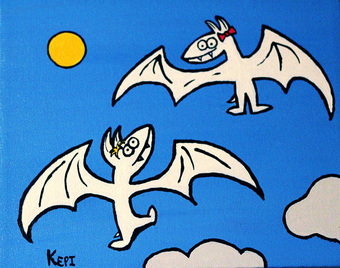 Join us at Psycho Donuts in Campbell for a Rock and Roll ART show "Kepi and Friends Go Psycho" with live music by Kepi Ghoulie (Groovie Ghoulies) and Dog Party!
This show is going to be extra fun with art inspired by Kepi's music, Rock and Roll, punk and The Ramones.
Check out Kepi's latest video:
http://www.youtube.com/watch?v=DQE7maP9Bf4
Psycho Donuts is turning 4 - so don't miss out on special donuts for the anniversary
and a special "Kepi" donut is in the works too!
"Kepi and Friends Go Psycho" A Rock and Roll themed art show featuring artists:
Kepi Ghoulie
Lucy Giles
Christine Benjamin
Gilbert Armendariz
Dan Potthast
Saturday, March 9th
12 noon to 6PM
Show is FREE and all ages
Show runs from March 9th to March 31st 2013
Psycho Donuts
2006 Winchester Blvd.
Campbell, CA 95008
408-533-1023