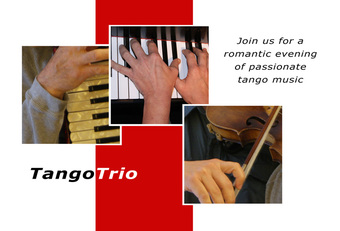 ART ARK GALLERY is proud to present ...
Tango Trio a trio of accordion, piano and violin
performed by: Gianfranco Paolozzi, Nancy Lane, and Griff Derryberry
Join us for a romantic evening of passionate tango music.
Feel free to drop in at anytime throughout the evening.
Dancing is encouraged!
Friday, June 15th 2012, 7-10pm
Saturday, June 16th 2012, 7-10pm
Appetizers provided & beverages available.


Spring in Venice #16 by Gianfranco Paolozzi

On view at ART ARK GALLERY
Collagements = collages of moments
Original works by Gianfranco Paolozzi
Gallery hours in June:
Sat. 2 & 9 and Sun. 3 &10 from 5 to 7pm
Tue. 5 & 12 and Thu. 7 & 14 from 3:30 to 5:30pm
Fri. 15th and Sat. 16th from 3:30 to 10pm
If you have questions please contact:
Gianfranco Paolozzi at 408-393-8014 or
gianfrancopaolozzi[at]yahoo[dot]com
These events are free and open to the public, donations are always welcome. Parking is limited.
Art Ark Gallery
1035 So. 6th St.
San Jose, CA 95112
www.artarkgallery.net