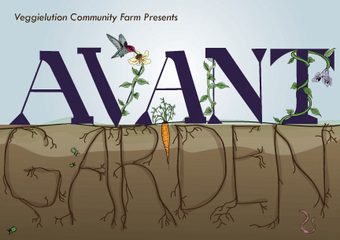 Veggielution is seeking artists to donate pieces to our silent art auction. We will be hosting an art and food fundraiser, Avant Garden, taking place on Friday, April 13th, 2012, 7-10pm at The Armory in Downtown San Jose.
We are building an interactive and engaging evening around tasty food, live music, and a silent art auction. The program will include farm fresh appetizers/small plates, beverages, local musicians, and video. Veggielution's mission and programs will be featured, and we hope to inspire farm and food related conversation. We expect to have 300-500 people in attendance.
We are looking for pieces that are connected to food and/or farming in some way. In addition to a focus on Veggielution, we hope to explore many aspects of food – the land, people that work the land, farm worker rights, rural and urban settings, gardening, eating together creating community, food justice, food insecurity, childhood food memories, taste, and any other connections you can make.
We are also looking for handcrafted items that can be offered at a set price (not auction).
Commit to Participate by Wed, March 14th. For full details, please visit the Call for Artists page: http://www.veggielution.org/2012-call-for-artists/