NEVERENDING PASSION Live Painting Event & Contest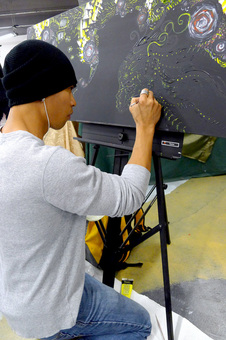 Joe Perea

For the fourth year in a row, Phantom Galleries and Cinequest are partnering to bring a live painting event and contest to the audiences during this year's Film Festival 22.
Artists Joe Perea, Sara Tomasello and Kori Thompson will manifest through their imagination and talents their take on this year's theme of the festival "Neverending Passion."
The artists will be painting from Wednesday February 29 thru Friday March 9th working in the windows of Camera 12 Cinemas on the pedestrian paseo side. There will be voting instructions in the window in front of each artist. Come by often to see the artists in action and watch the progress. The artists will be recognized, and a winner announced, at the closing gala on March 10th at the California Theatre.
The Cinequest Film Festival is an all out celebration of creativity, innovation, and empowerment and we're excited to be a part of it again this year!