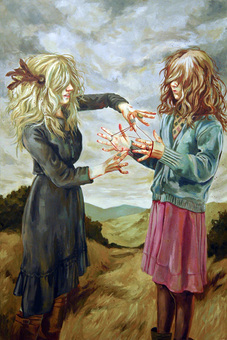 KALEID Gallery's Lacey Bryant will have a featured solo exhibition at Modern Eden Gallery January 21-February 5, 2012.
"Soliloquies from the Silent Country", new paintings and sculptures by San Jose artist Lacey Bryant. The opening reception will be held at Modern Eden on Saturday, January 21st from 6-9pm. Live music will be provided by acclaimed Folk group "The Wild Reeds" [http://www.myspace.com/thewildreeds], and complimentary drinks by Quail Oak Winery will be served to our 21+ guests. The exhibition will be on display through February 5, 2012 and is free and open to the public.
Theatrically posed and surrounded by lush, illusory environments, the subjects of Lacey's works are like illustrations in a picture book written in an unknown language. The images are somewhat familiar but certain elements remains foreign. Like a hazy dream of an imagined childhood long forgotten, the images strive to make you feel as if you just might have been there once, maybe. The stage is set in an imagined world of natural beauty beneath ominously stormy skies. It is a world poised between now and once upon a time.
The use of symbolism gives the work a universal language although many of the symbols can be interpreted in several different ways. Certain motifs are repeated throughout the works such as birds and insects, roots, branches or veins, string, theatre curtains and abandoned objects. Often emitting from the haunting subjects of her work, these symbols represent desires, feelings and afflictions. Lacey's subjects are often blind to their own dilemmas or at least are unaware of how to change their circumstances. Curtains remind us that we are peering in on a world as artificial as our own. These images are invented to confront issues such as connection, longing, frailty, time and our own mortality.
As is common in Lacey's work, there is a subtle tension between beautiful and unsettling elements. Though the settings are usually very light and airy there is a certain heaviness in the atmosphere and a distinct melancholy about the girls with wild hair and confrontational stares. We are presented with things we are uncomfortable with-spiders, holes, cracks and decay. This contrast is constructed to create a sense of mystery and mood, enticing the viewer to linger and embrace their own hidden dark sides or even to find the beauty in something that scares us.
Modern Eden Gallery
403 Francisco Street
San Francisco, CA 94133