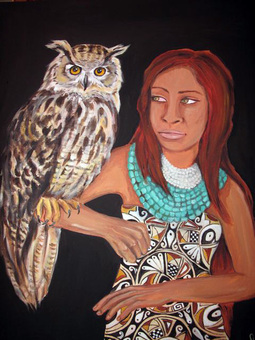 Phantom Galleries presents artist Katrina Marie Loera's debut solo exhibition Blessed Are the Beasts, For They Shall Inherit the Earth at Good Karma Vegan Cafe.
Animals have inhabited this planet since its creation. They have sustained the human race by providing food, clothing, protection, strength, guidance, entertainment, and companionship since the beginning of our existence. They have remained constant as the world and its people have changed and put chains around them. Their servitude has not gone unnoticed. For all around the world, these beasts have been exalted for their offerings. To some, they are sacred. Yet, despite their efforts to coexist, there are those who treat these humble beasts with hostility. Perhaps it is our nature as humans. We bring war and destruction to a planet that otherwise would be filled with abundant life and beauty. We have created divisions amongst our own species and shed blood because of beliefs. We have neglected and abused all living things in our quest for domination. Eventually, we will be our own demise. And all of earth shall be left to the meek.
Blessed Are the Beasts, For They Shall Inherit the Earth is a collection of images honoring the animals and people of this planet for their sacrifice, patience, long-suffering, beauty, and grace.
Artist's Reception: First Friday February 3rd, 7-11pm
Part of the South FIRST FRIDAYS Art Walk in downtown San Jose. See full schedule here: http://www.southfirstfridays.com/
Exhibition dates: January 4 - February 24, 2012
While visiting the show, enjoy delicious vegan food and some of best beer on tap in San Jose!
Good Karma Vegan Cafe
37 South First Street
Downtown San Jose