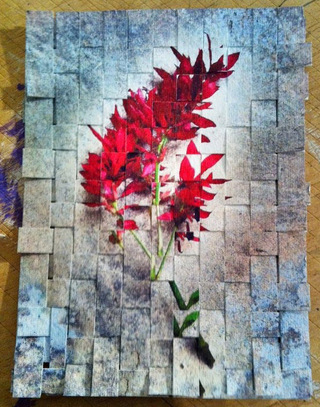 KALEID Gallery artist Shannon Amidon has returned safe and sound from her month long residency at the Julia and David White artist colony in Costa Rica. She recaps her experience on her website which is an insightful read....and will make you want to do a couple of residencies a year.
"Part of being an artist is "filling the well" and that's what I decided to do, no longer fighting with my muse or mind and just enjoy my surroundings."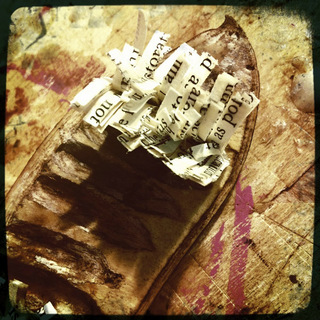 These art images are two main projects she completed while there. "The first one of those projects was taking portraits of the local plant life. It was so abundant and beautiful I felt the need to capture it. I didn't take pictures in the traditional way of the plant or flower in its natural environment. Instead I brought it into my studio with special lighting and really focused on it as an individual piece. After I had the photos I then began experimenting with a paper weaving technique. I printed two copies of the photo out onto watercolor paper. I then cut strips into one vertically and one horizontally and then weaved them together. After the weaving was done I dipped the finished picture into encaustic wax to seal it and give it a softer look. I must say that I really like the results of this technique and plan to complete a series of them. The act of weaving the photos could take a long time depending on the size and was very meditative and relaxing."
"The second major project I worked on was my "Thought Pods" I found and collected lots of interesting seed pods around the colony. I wanted to use them in some way in my work. I also had brought some old books to work on book art projects. I combined the seed pods, book pages, and encaustic in interesting ways to create what I call "Thought Pods". These were fun to create, I love books and writing and try to incorporate them into my work when possible. It was also messy and sculptural work which was enjoyable."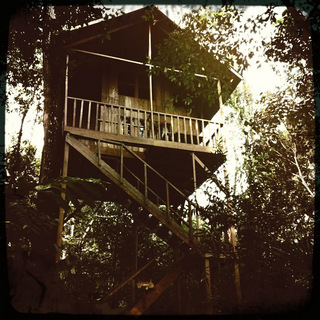 And she got to stay at the Tree House Hotel! A bed and breakfast hotel with 5 tree houses (each very private) on 8 acres and surrounded by a 70 acre wildlife refuge with a waterfall and river.
Read Shannon's website for additional photos and posts about her trip. www.shannonamidon.blogspot.com/