There's no downtown San Jose art walk this month (January 7th) but there's still a couple of great art openings going on so you don't have to wait til First Friday February!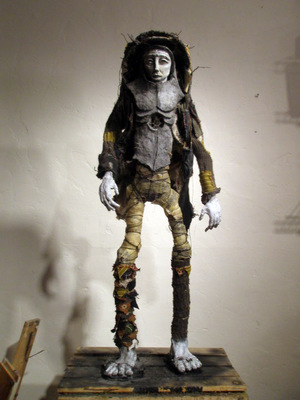 The Samurai, sculpture by Matthew Pugh
Surgery.Art presents Dark Matter a group study of the dark and immeasurable.
Opening reception: JAN 7 2011, 7-10PM
Fashion study: Mike Kemling
Auditory guidance: Dr. Stats, Femme Mystique, Kevorkian, Mixer Djammed
Featuring dark analytical work by: Matthew Pugh, Marie Dvorkin, Alla Viksne, Jay Ruland, Alex Yanushkevich, Kelly Nelson, Emily Feucht, Haley Goodlett, J. Marie Valdivia, Centa Schumacher, Mike Dvorkin, Genevieve Hastings, Shauna Mork + more
Curated by: Marie Dvorkin, Dora Lee
Exhibit dates: JAN 7 - JAN 21, 2011
Gallery hours: Tuesday - Friday noon - 7pm & Saturday noon - 5pm
KALEID Gallery
88 South 4th Street, San Jose, CA 95112
www.KALEIDgallery.com
(408) 947 1785

Over at Art Ark is Candy Coated Visions: recent works and site specific installation by Gwen Mercado-Reyes and Kajmear Reyes
Opening Reception: Friday, January 7 · 7:00pm - 10:00pm
Art Ark Gallery
1035 S. 6th street
San Jose, CA

and WORKS Gallery will be having a closing reception for the Works' Member Exhibition "Ring In the New" from 7 to 10pm.
This exhibition is the most eclectic, startlingly open, unjuried annual regional exhibition of art. Work from the stars of the South Bay scene are brought together with first time exhibitors. Come celebrate and support your community art and performance center with the artists who do the same: including Tony May, Carmela Rizzuto, Catherine and Tim Thompson, Myrrh, James Morgan, Irene Suber, and 100 more!

There will be member announcements at 9pm. Artists in the exhibition can claim their work to take home at 10pm.

Works
451 South First Street
San José, CA 95113
http://www.workssanjose.org/