This month's featured artists at KALEID Gallery is painter Mariana Barnes and master photographer John Paulson and are on view through Wednesday October 27th. Both exhibitions are examples of vision coupled with high skill and technical ability within their chosen mediums.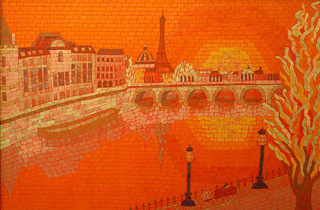 Ancient Art, Modern Twist is a series of paintings in which Mariana Barnes painstakingly paints thousands of small tiles on canvas to create the illusion of mosaic tile work.
When asked about her preliminary process, Mariana surprising said: "I try to sketch as little as possible. Many of my pieces are done free hand and I just go with the flow, letting it take me where it will. But for more complex images like my stained glass looking paintings which are more structured and geometric in nature or my somewhat realistic paintings such as Radiant Paris I do have to create a quick sketch before I start painting."
'Radiant Paris (pictured above) is a fine example of the process- it shimmers and refracts light as you move around the piece. Mariana says about the piece: "Radiant Paris is my internal recollection of the city of love. I had dreamt all my life of seeing Paris. I imagined it full of life and light and vibrant colors. When I finally got there on a three day romantic excursion with my husband, it was grey, overcast and gloomy. We did get one beautiful sunset of magnanimous orange. We were sitting in a park by a pond, and the sun shimmered over the water."
"Now over ten years later, I still have a warm feeling when I think of Paris. I made a wintery leafless tree come alive in my mind and poured it over the canvas. I used the orange color of that sunset to infuse my painting with the feeling I had on the inside while I was there. In the end it turned out how I pictured Paris to be."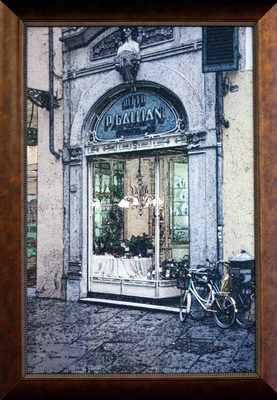 Italy Today is a series of photographs by master photographer John Paulson. The images seem to hover in limbo...when asked about it, John responded, "I think at least part of the reason my photographs "hover in limbo" is because they are timeless. I have been an admirer of Marcel Duchamp and his concept of 'found art.' My photographs are taken in places that were just waiting for me to find them. It excites me with a sense of wonder about what I will find next, what other places are yet to capture. Also contributing to their timelessness is an absence of people, in most cases."

Visit these two exhibitions through Weds., October 27th.
Gallery hours: Tuesday - Friday Noon - 7pm, Saturday Noon - 5pm.
KALEID Gallery
88 South Fourth Street
San Jose, CA
www.kaleidgallery.com