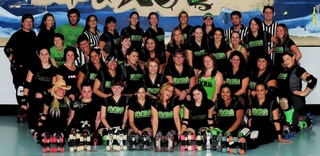 The Silicon Valley Roller Girls, Santa Clara County s premiere female flat-track roller derby team, is seeking horror and/or roller derby themed art submissions as donations for an art auction & wine tasting fundraiser!
The creator of the donated piece that raises the most money will win an SVRG prize package!
SVRG Wine Tasting, Art Auction, & Costume Party!
Tuesday, October 26th - 5:30pm to 8:30pm
The Grapevine, 1389 Lincoln Ave., San Jose, CA
www.grapevinewillowglen.com
Event admission is FREE! Must be 21+!
Silent art auction closes at 8pm. Cash only.
Submissions are due by Saturday, October 16th!
Please RSVP your spot via email to community@svrollergirls.com and include your name, phone, type of art medium to be used, and general idea of piece.
[Submissions are limited due to venue space and restrictions, so please RSVP your participation as soon as possible to save a spot for your piece. While we encourage creative freedom, we do retain the right to refuse participation to any artist/piece for any reason. Final artwork must be handed in by Saturday, October 16th. Questions? Contact community@svrollergirls.com]