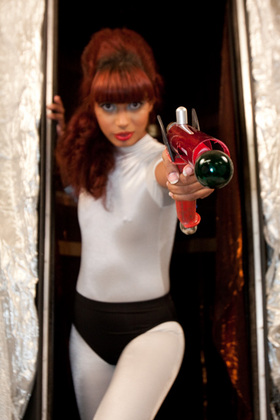 photography by Daniel Gaines

The Woman Who Fell From Space!
In the futuristic year of 2010, an alien beauty crashed to Earth. Lost and distressed, she has made her way to Silicon Valley and has taken refuge with Dr. Sketchy's Anti-Art School. Come, witness for yourself the spectacle of the woman who fell from space!
Bring your sketchbooks and favorite drawing tools, for in exchange for sanctuary, she has agreed to let her likeness be rendered by our esteemed student body.
Join us on Thursday, April 22nd from 7pm-10pm at Anno Domini, the official San Jose Chapter of Dr. Sketchy's Anti-art School!

DR. SKETCHY's ANTI-ART SCHOOL
Dr. Sketchy's is the world's premier alternative drawing movement. Every month, over 3,500 artists gather in over a hundred cities (including New York, Hollywood, Sao Paolo, London, Rome, Paris, Tokyo, and Melbourne) to sketch glamorous, subcultural models and compete in drawing contests in an atmosphere of artistic mayhem.

Thursday, April 22nd, 7pm-10pm
$10.00/door Seating is limited, so get here early!
Featuring Live Model: Theresa Dunnavant
Master & Mistress of Ceremonies: Drew Clark & Trina Merry

Anno Domini // the second coming of Art & Design
366 South First Street, San Jose, CA 95113
www.galleryAD.com 408.271.5155