KALEID Gallery presents featured exhibitions by Sandi Billingsley and Mark Damrel for the month of February.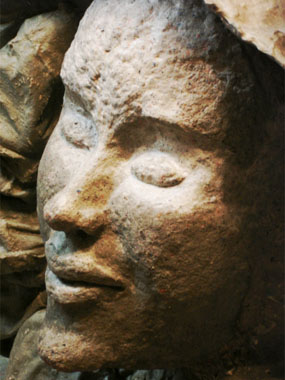 art by Sandi Billingsley

Transfiguration is a collection of three dimensional art is an expression of Sandi Billingsley's faith that "we humans can live in luxury while being environmentally responsible." Transfiguration is essentially the art of changing the properties of an object. In this case it refers to the changing of garbage into art.
This series is made entirely from rescued materials. The core is made of Styrofoam collected from shipping packages, friends and dumpsters. Sandi then applies a combination of old paint clothes, junk mail, phone books --- basically anything with natural fibers headed for the trash. Dipping these flexible materials in non-toxic glue gives them strength to hold interesting shapes. Finally, the piece is finished with "Aqua Brand" textures and paint which are non-toxic. The result is an environmentally friendly piece of art.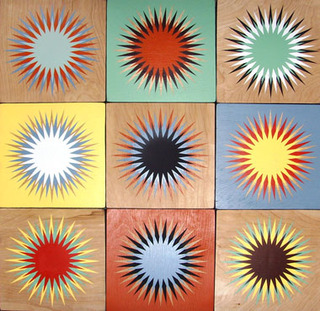 art by Mark Damrel

Relative Matter is a series of paintings by Mark Damrel inspired by the hardships he encountered on his journey into fatherhood. "Years went by with little to no hope. I started to get used to the fact that I would never have a family, and then it happened."
In groupings of mixed media paintings on wood and paper, he explores the themes of childhood memories, despair, hope and joy.

Meet the artists at the opening reception on Friday, February 5th, 7-9pm, featuring live music by INFM, and Tyler Boyd.

This reception is part of the South First Fridays art walk and is free and open to the public.

In addition to the feature exhibitions, peruse the art of 60 regional artists work in the gallery.

Gallery Hours:
Tuesday - Friday, Noon - 7pm
Saturday, Noon - 5pm

KALEID Gallery
88 South Fourth Street
Downtown San Jose
http://www.KALEIDgallery.com
408-947-1785