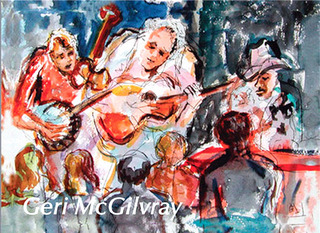 Palo Alto artist Geri McGilvray will show thirty paintings in various media in a one-woman show at the Norton Gallery. The retrospective show is themed "Through The Eyes of a Woman." and includes her models, favorite musicians, and Sebilius, expressed in a way that draws on the infinite array of colors which she feels through her heart. She expresses the energy of living things with a lyrical quality in brush strokes and a bold use of color.
The reception will be held on Friday, Mar. 5, from 6:00-9:00pm. Live music by Doug Jones.
Exhibit date: March 1 - 30, 2010.
Norton Gallery at the Pacific Art League
668 Ramona St.
Palo Alto, CA
Open: M-F 10am-5pm, Sat 10am-4pm.
You can view more of Geri's work at www.Geriart.net.
Contact her at Geri@thegrid.net. Phone: 650-269-2502.