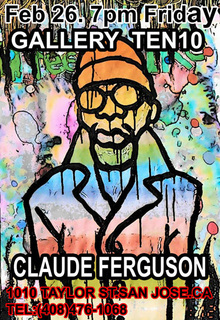 Gallery TEN10 presents mixed media artist Craig Ferguson for its next last Fridays art exhibitions series on February 26th.
Artist's Reception 7-9pm, includes drum circle and open mic
sober potluck environment
Gallery TEN10
1010 East Taylor Street
San Jose, CA

Gallery TEN10 is a house for the intersection of the Arts, centering on the visual, written and spoken word and music. The artists are responsible for the facilitation of all aspects of presenting their creative context and the director provides the venue. The emphasis is on sharing, but selling is possible at the artistís behest with all proceeds going to the artist.
For more information contact Director Al Preciado at 408-476-1968