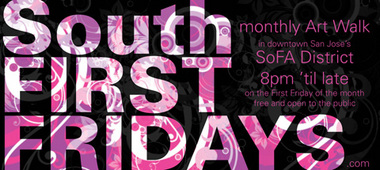 Join us for the downtown San Jose monthly art walk this Friday, November 6th, 8pm 'til late!
Opening reception highlights:
KALEID Gallery: Fragile Things new paintings and curiosities by Lacey Bryant, and The Carnival of Lost Souls assemblages by Jen Renzel
Anno Domini: BLOODWORK: SLEEVES 30 Tattooers 67 Sleeves- a collaborative project produced by the Analog Tattoo Arts Kolectiv (ATAK).
Caffe Trieste: Genre Variations oil paintings by Cynthia DeBenedetti.
Downtown Yoga Shala: Shimmer paintings by Melissa Kreisa to benefit Refugee Transitions organization.
MACLA: Cultural Disjuncture featuring Monica Canilao, Diana Cristales-David, Betty A. Davis, Jaime Guerrero, Alejandro Oliva, Mitsy Ávila Ovalles and Rio Yañez.
Metro Photo Exhibit: The Last Good Dive Bar photos by the First St. Photo Collective
Participating photographers include: Carlos Da Silva, Abe Menor, Trish Leeper, Tanya Angeli , Anabella Pinon, Nancy h. Ahn, Chris Patton, Felipe Buritrago, Yumiko Miyagawa, Vu Nguyen, Jennifer Ahn, Jason Duffany, Michelle Budziak, Jen Anderson, Amber Chavez, Jai Tanju, Mario Guel, Trent Still, Murray Bowles
San Jose Institute of Contemporary Art: Group exhibit Afterlife A group exhibition presenting the work of artists who transform collected and recycled materials into works of art. guest curated by Kathryn Funk. Manifold A solo exhibition by postminimalist sculptor and installation artist Theodora Varnay Jones.
San Jose Museum of Quilts & Textiles: The 2nd annual High Fiber Under Five benefit art sale will be in full swing. This invitational sale features world class fiber art by nationally and internationally known artists, including jewelry, sculpture, wearable art and wall pieces, all for $500 or less.
SLG Art Boutiki & Gallery: SLG Publishing is proud to present the work of Jamiaca Dyer as we celebrate the release of her first graphic novel Weird Fishes. Also on display will be work from Drew Rausch, Bee Adams and several others. Live music by Quasimodal
South First Billiards Club & Lounge: Heart of Chaos and South First Billiards present our 3rd annual Uproar event, one of the largest art events in San Jose. Live Music, Belly Dance, Live Painting, and Art Exhibits. Art priced to sell!
21+ venue
Agenda Restaurant: Special one night only exhibition and wine tasting event featuring Images From a Beautiful World by LIsa Amato. A collection of fine art photography that pairs well with fine wine, food and music. Live Music by Tyler Boyd. 6pm-8pm: $10 Wine Tasting, $25 Special Pre Fixe Dinner (includes Wine Tasting ) Call 408-287-3991 or email info[at]agendalounge.com for reservations or further details
For full schedule of events and venue addresses, please visit http://www.SouthFIRSTFRIDAYS.com or call 408-271-5151.