KALEID Gallery presents the featured exhibitions Fragile Things new paintings by Lacey Bryant, and Carnival of Souls assemblages by Jen Renzel for the month of November.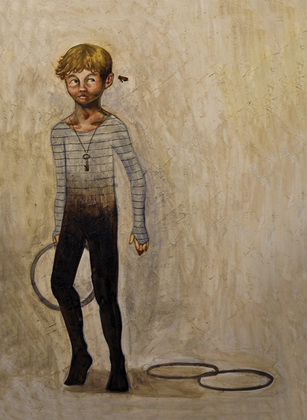 Fragile Things by Lacey Bryant
Lacey has always been fascinated at how so many fragile things are able to exist in our chaotic, messy world. "Tiny, delicate things often seem to thrive in the most hostile environments. Fragility makes things precious to us, things are more beautiful because they will not last. So many things are fragile when you stop to think about it. Insect wings, shells, glass, children, hearts, dreams, the list is endless. On the surface, vulnerability seems to unite these things but the deeper thing that all of these fragile things have in common is a hidden strength. An egg shell is easily broken, but the shape of an egg is such that it can support a massive amount of weight for it's size and thickness, protecting it's delicate contents. An insect may be crushed without a thought but can easily survive a fall that would kill a human being, not to mention the strength of their numbers. Children are amazingly resilient and can survive the most horrible of circumstances. It is the balance between weak and strong and the often contradictory duality of things that interests me. "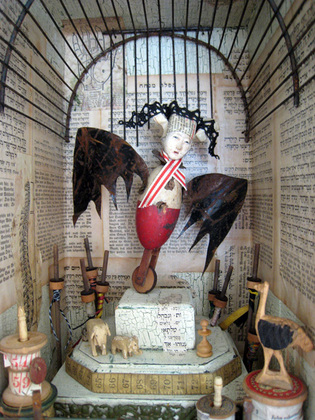 Carnival of Lost Souls by Jen Renzel
Little sideshow oddities, dark dreams, and mystical beings. Broken dolls, old toys, antique hardware, collaged images, and imagination are the ingredients for these shadow boxes. "The broken down treasure at the bottom of a moldy box can be the cornerstone of a new creation. In fact, that's often how the idea for a piece starts — with one broken doll, toy, or image that sparks the imagination. The rest is a continual trial and error process of finding which pieces fit together, then figuring out how to connect them, which can be challenging when working with oftentimes crumbling, frail and damaged materials and parts. Something tells me when a piece is finished. Some pieces come together quickly, and some take forever and are a struggle. In either case, I can lose hours and hours in the workshop, and the results sometimes surprise even me."

Artists' Reception: First Friday, November 6th, 7-9pm
This event is part of the South FIRST FRIDAYS art walk in downtown San Jose. Free and open to the public.
Exhibition on view through November 27, 2009.
KALEID Gallery
88 South Fourth Street
downtown San Jose
408-947-1785
www.KALEIDgallery.com
Gallery Hours:
Tuesday thru Friday, Noon - 7pm
Saturday, Noon - 5pm
First Fridays til 9pm