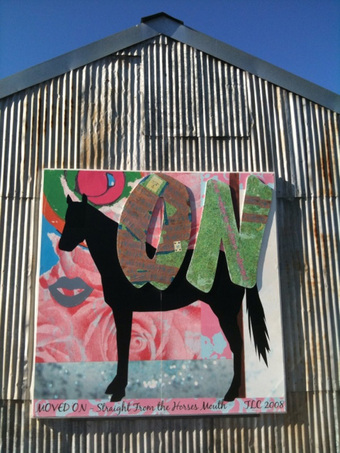 Moved On - Straight from the Horses Mouth, 8'-0" x 8'-0", multimedia collage using vinyl, decoupaged wooden text and laser cut metal.
Created in the first part of 2009 as a commissioned work for Phantom Galleries Redwood City, Tamsinn Cowart's Move On mixed media mural has a new home at the Main Street Roasting Company in Redwood City.
The Eastward facing exterior metal wall is a fitting home for this special steed. If you are local, come check it out! (Their cornmeal pancakes are outrageous and they have live music for Saturday morning brunch!) If Caltrain is your mode of transport, the mural can also be seen from the train. Look to the west just south of the Redwood City Caltrain stop.
Main Street Coffee Roasting Company, Ltd.
150 Elm Street
Redwood City, CA 94063-1909
(650) 368-3430
www.mainstreetcoffee.com