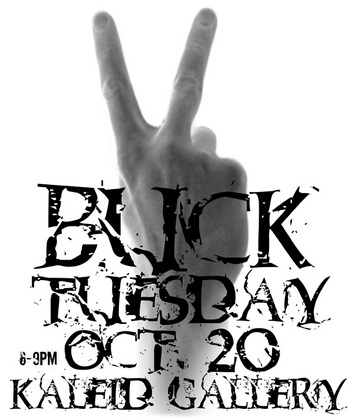 Join us at KALEID Gallery for the next TWO BUCK Tuesdays $2 art sale, quirky speaker series and live sketch session this Tuesday, October 20th, 6-10pm!
FEATURED SPEAKERS (7pm):
Carlos Dasilva will speak about his fine art black and white photography work, his recent transition to screen printing and his influences and inspirations for creating new works.
Mariya Milovidova will present some of her visual art, plus some fashion items from her spring & summer collection 2010. She will also demonstrate how to transform your regular clothing into a Halloween costume!
Don K. will talk about some of his recent poetry.
Music by Sid Licious
FEATURED SKETCH SESSION ARTISTS:
Fernando Amaro
Laura Callin Bennett
Robert Lopez
Timothy Tsun
Artists will be creating original pieces of art throughout the evening and will be available for purchase priced between $5 - $30.
Artists are encouraged to come and participate as well (bring your own art supplies).
Tonight's event is curated by Eddie Flores with the support of the TWO BUCK Tuesday crew.
KALEID Gallery
88 South Fourth Street
Downtown San Jose
www.KALEIDgallery.com