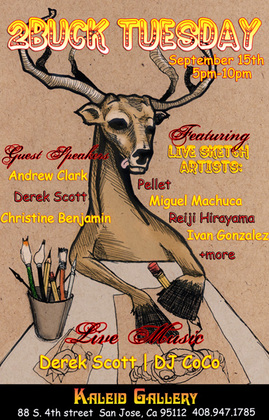 Join us at KALEID gallery for the next TWO BUCK Tuesdays $2 art sale, quirky speaker series and a newly added live sketch session!
Tuesday September 15th, 6pm - 10pm
(speakers begin at 7pm)
FEATURED SPEAKERS:
- Christine Benjamin will give a demonstration on how she creates her creatures in 3D with needle felting. She started needle felting earlier this year in order to translate her painted characters in 3 dimension. She is currently experimenting with adding other materials to her creations such as wood, wire and found objects.
- Andrew Clark shall discuss his miraculous mustache ( think Dali, but with a twist)the history of the mustache and how he maintains his mustache of panache. A witty Charismatic artist working currently with found objects.
- Derek Scott will be speaking about Beatseqr, a local homegrown musical instrument. His work creating his own recording label via the internet and working in the electronic music scene.
ENTERTAINMENT:
- Dereck Scott & fellow Dobox artist shall collaborate and create improvised experimental electronic music.
- Yumiko Miyagawa, aka "DJ COCO" shall DJ an eclectic mix of different music.
FEATURED SKETCH SESSION ARTISTS:
Pellet
Reiji Hirayama
Miguel Machuca
Ivan Gonzalez
+MORE
Artists will be creating original pieces of art through the evening.
Artists will place their finished pieces up on a wall for people to purchase. Original works of arts by established artists going at amazing affordable pricing of $5-30 a piece. Artists are encouraged to come and participate as well (bring your own art supplies).
--------------
If you're an artist that would like to participate in the Two Buck Tuesdays $2 art sale, just bring in 6-8 works of art sized 4" x 6" or smaller with your full contact info on the back (you keep all the proceeds) no later than Saturday September 12th at 3pm.
--------------
KALEID Gallery
88 South Fourth Street
Downtown San Jose
www.KALEIDgallery.com