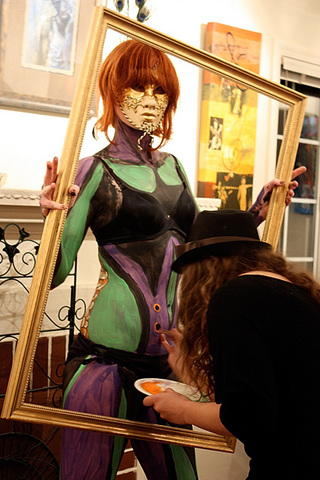 Trina live painting a human canvas

Trina Merry burst onto our little art scene about a year ago this month. It seemed every time you turned around there she was: painting walls, painting people, participating in group shows, solo shows, community murals, Street Mrkts, or touring with singer songwriters.
She's charming, energetic and if you have more than a 10 minute conversation with her, you'll know she's obsessed with Alice in Wonderland. We felt it time to learn more about Trina, where she mysteriously came from, what inspires her and what she's been involved in most recently. ~Phantom Galleries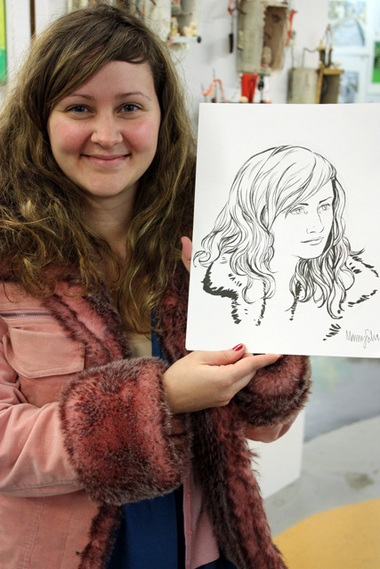 Trina Merry (with portrait drawn by Manny Silva)

PG: So Trina, from what I have been able to gather, you grew up in the San Jose area, did a few years in the Hollywood film industry, and then moved back in 2008, what brought you back?
TM: Most people living in LA, regardless of how diverse they are, can agree on one thing- living in LA sucks!  The traffic, the smog & the suburbian isolation are pretty unbearable.  For me though, it was the rotten hours & inhuman lifestyle- I was working 12-18 hours a day, sleeping in my car & not doing laundry just to skip traffic & sleep a few more minutes.  I felt like a robot in a lonely town and was pretty depressed. I basically called my dad up & said "I'm not happy here.  I'm not gonna kill myself or anything, but I may just go dig a giant hole out back & lay there til I die".  My dad said, "I'll be there Friday". 
I had this amazing opportunity to take a sabbatical up near Yosemite & paint rent-free so I took it!  That time was such a blessing because I had this near-death experience driving out of LA & had this "coming to Jesus moment" where I realized- "dang!  I wanna live life to the fullest & do something meaningful! What's that all about?"  I was really grateful I had a beautiful place with a creek & hammock in the backyard to figure that out!  While I was there I started this production company called Quite Contrary Productions & after flying around developing a few films & TV shows, I ultimately landed in San Jose to develop a documentary on this organization "Beautiful Day".  I don't know if I would have been back if it hadn't been for all of that, so I guess I'm pretty grateful.
PG: You moved into a studio space at the Citadel earlier this summer (with a great party by the way!) how is it working out?
TM: Its great! Im starting to settle into regular studio hours which is feeling healthy and the party has been a catalyst to get to know and see the work of some really talented artists. After three years without open studios, a few artists are actually organizing one, some patron tours and Martha Garden events for the fall. I have to admit the transition has been unsettling for me and taken a bit to get into the groove of things. Having a new studio is like getting to know a new person, its hard to when and how to self disclose. Ultimately, this has been a really good decision and I like the work Im making and the energy. Oh, and I  love the bats.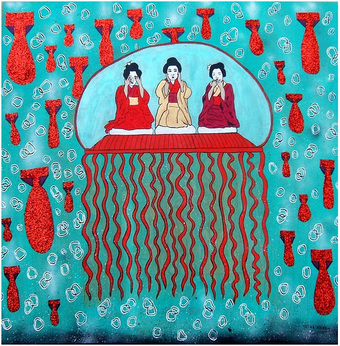 Imperial Wartime Jellyfish, 4'x4', acrylic, ink, spray and red glitter on Birch panel

PG: You were also a selected artist for the Control exhibit juried by Guerilla Girls West- what piece did you submit and why?
TM: "Imperial Wartime Jellyfish"! This piece expresses control on many levels- The glitter bombs represent American domination through the atomic bomb, glittering media, cultural globalization, technology & messages of fear. The geishas are an icon I use representing beauty, mystery, grace & lives dedicated to art, despite the fact that they're slaves. In the "see no evil, hear no evil, speak no evil" poses, they represent an American attitude towards the Japanese- we bombed cities & forced Japanese Americans into internment camps & we're supposed to pretend it never happened. This seems to be a pattern in America- distract us with something shiny & we'll ignore the horrible things we're doing. The jellyfish represents the domination of technology over nature. The ironic thing is that scientists have discovered a mutation in certain jellyfish that makes them immortal. I love this as a symbol! For all our ambition & anti-aging fads, it's the creature that floats along, adapting to its environment thats immortal!
PG: How was the Control exhibit over all- any Guerilla Girl unmaskings?
TM: How cool would that be?!? No Guerilla Girl unmaskings yet, though I did get to take pictures with them as they silently handed out advocacy fliers! The exhibit overall was powerful  with REALLY strong work! I hope it gets to tour because I think people will really benefit from seeing the exhibit and will be moved by the honesty of the work.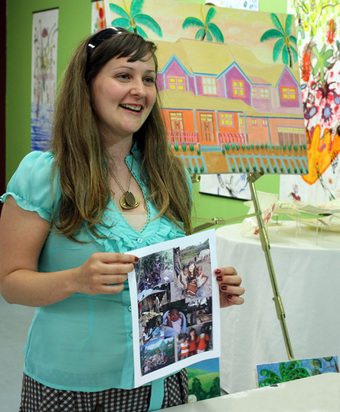 Trina at a Two Buck Tuesday at KALEID

PG: So on top of the new studio, the Control Exhibit, and helping direct a new video with Corpus Callosum, you recently returned from working with the locals in Bohoc, Haiti to distribute food to the people there and was able to spend some time making art with them.
At a recent Two Buck Tuesday speaker series, you spoke about this trip and how you were feeling really inspired by it and how the art was crossing over into social justice....can you recap some of that here?
TM: I'll do my best- but ya'll should really come to Two Buck Tuesday! =)
 
This was my second year traveling to Haiti, the poorest country in the Western Hemisphere located in the Caribbean right off the coast of Florida.  Hispaniola- or what is now Haiti & the Dominican Republic, was what Columbus "discovered" in 1492.  He claimed the land for Spain but French pirates started buccaneering in Tortuga (part of Haiti) and it wasn't long before King Louis XIV colonized it for France.  The French West India Company set up what is now Cap Haitian and brought over slaves.  Haiti's most successful export has always been sugar and what comes from it- rum.  Inspired by the revolution in France, the Haitian slaves revolted and, when Napoleon withdrew all his forces from the Western Hemisphere & signed the Louisiana Purchase, they became the only slave-liberated nation and the world's oldest black republic. 
 
What I've observed from all their subsequent upheaval is that there has been no real healing and so even though they are "free", they still allow influences into their lives that tell them what to do- influences like dictators & bad government, voodoo and messages of fear stemming from poverty.  We contribute to these messages by telling them things like "you can't do it on your own, you need our help".  The UN gets $1 million dollars a day in aid from the rest of the world to stay in Haiti, earning money off the poverty of the Haitians and they do absolutely nothing.  They hand out candy to kids and drink with the witchdoctors while having their "fortunes" read.  The people of Haiti are bright thinkers and entrepreneurs who need more empowering opportunities for trade instead of unhelpful aid handouts.
 
I have visited Haiti for the last two years and stayed at a nutrition center called UCI.  The center was started by a missionary couple (one native Haitian, one America) who came back to Bohoc to start a school.  As they walked around their neighborhood, wondering where to start, they saw a group of kids- three sets of twins- eating ashes from the fire in hopes that they could find some fat drippings from their mother's cooking.  The couple's hearts broke and they realized before they could educate the town, they needed to first feed them.  They started a nutrition center which feeds extremely malnourished kids.  When I was there I was struck by the kindness, joy and love of these children as they shared their only bowl of food with their siblings and parents. 
 

In addition to food distribution, I created a mural last year in a local church.  While working I met a group from the local boys art club.  They asked me to critique their work which turned into a discussion of how to market their art to tourists.  I asked them to help me finish the mural and left spaces for them to insert their own unique voices.  I kept in touch with many of these boys- some emailed me every week over the last year, forming friendships.  When I returned this year, it was with the goal of pouring into these boys.  I taught 1-3 art classes a day teaching them the fundamentals as well as organizing outdoor still life & landscape sessions.  Before I left I met Ema Harris Sintanmarian's adopted father who has been going to Haiti for the last 40 years (it just gets under your skin!).  I was very worried about what to teach and feeling inadequate & he gave me some very good advice- most of their art education is from copying other trade artists as there are no museums or galleries really outside of Port Au Prince.  Many of the artists still are influenced by the French impressionism with large idyllic landscapes & very small people.  He told me the very best thing I could contribute is to teach them my own voice, style & the fundamentals.  I felt like this was a very fateful meeting and one of the many perks this summer of moving my studio to the Citadel.
 
Taking this advice, I also organized 5 murals this summer in the poorest of the poor schools.  I painted one with a few boys who worked with me last year, two from the local, very corrupt & impoverished orphanage.  When the translator left, we could not speak the same language well, but we discovered we knew many of the same American gospel & hip-hop songs.  So we communicated through song and finished a 20 foot mural in only 8 hours!  I'm telling you, I could not create something that fast with Americans who spoke the same language!  These boys work hard and are committed to learning everything they can.  The hard work they put into creating and selling their art as trade artists means food for their families, tuition money & medicine for sick family members.  By helping them learn the basics of art, I am empowering them to dream, to become better entrepreneurs & to get themselves out of their circumstances.  They in return have taught me so much about redemption, simplicity, thankfulness & re-birth.
 
One last story I'll share is about the first day I was there this summer.  I was teaching an art class & a mid-wife came by with a brand new baby- right out of the womb!  She heard there was a visiting artist in town & as a sign of honor brought the baby to me.  As I held him, she told me his story- his mother is mentally ill (they obviously have no money for mental institutions, psychiatric drugs, etc) and some of the men of the village had been taking advantage of her.  She became pregnant and the mid-wife was taking this little baby to the orphanage.  I asked, "what is his name". & do you know what she said? "He doesn't have one, would you like to name him?"  I totally floored!  Name a baby?  What on earth do you name someone that will have this name for the rest of their life?  Very different than naming a fictional character or an art piece!  I thought about it and finally decided to call him "Dieu Bon Andre".  "Dieu Bon" means "God is good" and "Andre" translates to "Andrew" after my father.  This baby had the worst possible beginning and I wanted him to have a name that would redeem him and set him up for good things.  As it happens, there is a happy ending, or rather, beginning.  A few days later, the mother's sister heard the story and adopted little Dieu Bon!  I was so moved to hear this! 
 

So yes, I think the art I'm creating and my trips to Haiti are intersecting with social justice.  I think it's unfair that I have access to clean water, a variety of food choices, and shoes that fit and other people in this world don't.  I think artists have a great power to connect with other artists in ways that people who go to 3rd world countries to form hospitals or feeding centers cannot.  We have the capacity to tell great stories, to see beauty & hope hidden in ugly situations, and to inspire the rest of the world to act.  What I'm doing is valuable, not only because it brings hope & skills to others, but because its making me a better person.  My art is becoming about something bigger- it is not just a self-centered activity but can bring about universal justice & truth.  I think every artist needs to go get an existential education that allows them to get to know our neighbors in this globalized world.  Not only does it help us become better at loving, but it also helps widens our view of the world,  makes us very grateful for what we have (rather than stuck in the patterns of post-modernism that simply "opposes" well, everything or the misery & angst of suburban consumerism), and opens us up to explore new methods of expression.
 
There are a few hopeful next steps.  I'd like to take a team of artists over to Haiti for 1-2 weeks.  It also my hope to be able to return for somewhere between 1-6 months and create art there as a sort of residency to tell the stories for the people of Haiti who are virtually the "voiceless ones" because of poverty & injustice.  It would be nice to continue teaching those boys & perhaps form a mural team with them and bring them to the States for commissions. 
 
At Two Buck Tuesday many of the artists were moved to want to donate art supplies to the boys and learn more about how to purchase their very inexpensive art.  I've started an email list for that &, well, we will see where it goes!  There's so much innovation & creativity in this valley and I'd love to see that applied towards justice.
If people are interested in donating supplies, purchasing the boys art or becoming a mentor to one of the boys in the art club please contact Trina here: http://www.trinamerry.com/contact (This is the catalog of the boys art that is for sale: http://picasaweb.google.com/BohocBlvd/AugustCatalog?feat=email#)
 
PG: Thank you so much Trina, where can people see you and your art in the near future?
TM: You're welcome! I am a part of ::ahem:: FIVE Bay Area shows in October!  Dress up if you want!: 
 
October 2nd 5:30PM to 9:30PM is the opening reception for my Solo Exhibition @ The Abbey Coffee, Art & Music Lounge.  I am returning to where I FIRST exhibited in a group show!  http://www.myspace.com/theabbeysc
Oct. 3rd 4PM to 9PM- Art reception and Halloween party for the Psycho Doughnuts Halloween Group Exhibit Curated by Christine Benjamin) http://www.psycho-donuts.com/
October 6th-18th (opening on the night of the 7th)- "+++" Group Show in Collaboration with Gavin Hardkiss AKA. HAWKE's album release ?http://mail.google.com/mail/?ui=2&ik=49ac49d86c&view=att&th=12357d2ed99f2099&attid=0.1&disp=inline&zw
October 10th "Allusion or Illusion" Canvas Ghost Productions Group Show, San Jose, CA ?http://www.canvasghost.com/Home.html
October 17th-18th Alternative Press Expo 2009, San Francisco, CA, Will have a booth selling work & a newly released book I'm in featuring California Artists. http://www.comic-con.org/ape/
People can follow my upcoming shows by checking back here: http://www.trinamerry.com/about
Trina Merry's art work can also be seen during regular gallery hours at:
KALEID Gallery
88 South Fourth Street
Downtown San Jose
Tuesday through Friday, Noon - 7pm
Saturday, Noon - 5pm