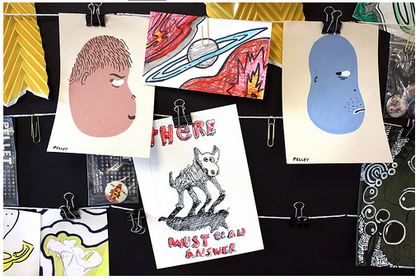 KALEID Gallery & the Two Buck Tuesday Crew presents:
TWO BUCK Tuesdays - May 19, 2009
an all day $2 art sale and quirky speaker series (6-8pm) on the third Tuesday of the month.
12noon - 8pm : $2 art all day
6pm -8pm : interesting people speaker series- 10mns each, with additional performances and demos before and after the speakers.
Speakers:
David Ramsey will cater this evening's event and speak about creativity in cooking
Blaise Rosenthal: American Painter. Talks about a piece from his series "An Initial Approach to Knowing Everything," a body of work in which he has explored the nature of free will and the conflict of good & evil. He'll discuss his pursuit of contextualizing himself and the human condition as well as his process of combining classicist considerations and contemporary dialogue.
http://www.flickr.com/photos/20965327@N03/3398639275/
Carolina Harris, owner of "Beyond Wonderland," will talk about how to get an Etsy shop started and give advice on participating in DIY fairs and events. http://www.etsy.com/shop.php?user_id=33738
Before / after speaker series performance by:
Cello Joe – The wildest beatboxing celloist in the west will be performing before and after the speaker series before heading to Utah on the "Shake Your Peace Utapia Now! Tour". http://cellojoe.com/
and workshop demo by:
Beyond Wonderland (Bazaar BizarreVendor) will do a workshop on creating textile fortune cookies. FREE!
To see past Two Buck Tuesday events, click HERE.
Two Buck Tues Crew:
Christine Benjamin
Lacey Bryant
Eddie Flores
Maria Inocencio
Trina Merry
Kyle Pellet
Matthew Seigel
Kate Stewart
Two Fish Design
KALEID Gallery
88 South Fourth Street (@San Fernando/next to Flames Restaurant)
Downtown San Jose
info[at]KALEIDgallery.com
Free & open to the public!