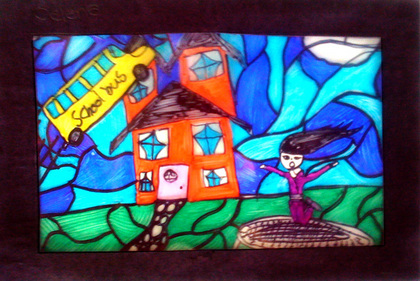 artwork by Selena, 6th grade, Selby Lane School
Join us in celebrating the creativity and artistry of students in Redwood City School District as student drawings, paintings, collage artwork from each of the districtís 15 schools is displayed in the storefronts at the corner of Broadway and Jefferson Street in downtown Redwood City, from May 11 through the end of June.
An artistsí reception will be held on Sun., May 17, from 3:30-5:30, in the space at 2107 Broadway to honor these student artists. Family, teachers, and friends are invited to join the celebration. (MAP)
The event includes musical performances by Corpus Callosum, live painting by Lacey Bryant and Pellet Factory as well as food and refreshments.
The Phantom Galleries project brings together community artists to enliven vacant storefronts and alternative spaces with vibrant art exhibitions and murals.
The project is produced by Two Fish Design in partnership with the Redwood City Redevelopment Agency. For more information, please call 408-271-5151 or email info[at]PhantomGalleries.com