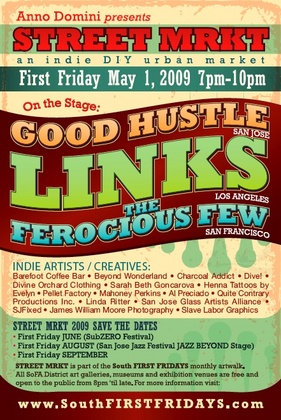 Anno Domini presents
STREET MRKT an indie DIY urban fair
on South First Street, between San Carlos & San Salvador
in the SoFA District, downtown San Jose
FIRST FRIDAY May 1st, 7pm - 10pm
Kick off the 2009 season of STREET MRKT with a free outdoor concert featuring the best live music and most creative artist vendors in San Jose! It's all part of the South FIRST FRIDAYS monthly artwalk. All SoFA District art venues are free and open to the public from 8pm 'til late.
On the Stage: GOOD HUSTLE (San Jose), LINKS (Los Angeles), The FEROCIOUS FEW (San Francisco)
Indie Artists/Creatives: Barefoot Coffee Bar • Beyond Wonderland • Charcoal Addict • Dive! • Divine Orchard Clothing • Sarah Beth Goncarova • Henna Tattoos by Evelyn • Pellet Factory • Mahoney Perkins • Al Preciado • Quite Contrary Productions Inc. • Linda Ritter • San Jose Glass Artists Alliance • SJFixed • James William Moore Photography • Slave Labor Graphics

STREET MRKT 2009 SAVE THE DATES:
- First Friday JUNE (SubZERO Festival)
- First Friday AUGUST (San Jose Jazz Festival JAZZ BEYOND Stage)
- First Friday SEPTEMBER (Final one of the summer!)

"All Hail the Progenitors of Culture!"
-------------------------------
For more information, please contact:
Anno Domini // the second coming of Art & Design
366 South First Street, San Jose, CA 95113
www.galleryAD.com 408.271.5155